You can now bake Arnott's tasty Monte Carlo biscuits from home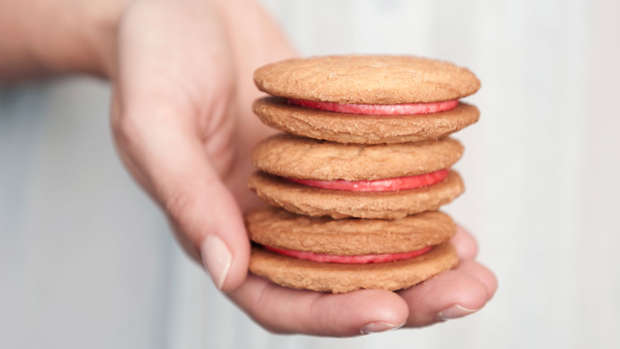 Australian biscuit company Arnott's are doing their bit to encourage us to stay indoors during the current pandemic. So much so, that they're releasing their top-secret biscuit recipes so you can bake them in your own home!
Starting with the world-famous 'Monte Carlo', Arnott's have vowed to release a new recipe each week to keep you busy whilst staying inside.
"What better way to connect with those you live with than by baking an Arnott's classic biscuit… at home!" is what is written on Arnott's website. We certainly think it's a great idea!
So if you're in the baking mood, why not try out this Australasian favourite.
Arnott's Monte Carlo Biscuit Recipe ingredients
125g butter, softened
½ cup (125g) caster sugar
½ tsp finely grated lemon rind
1 tsp vanilla essence
2 tbsp golden syrup
1 egg
40g desiccated coconut
1 ½ cups (240g) plain flour
Cream ingredients
60g butter
¾ cup (150g) pure icing sugar
2 tsp milk
Raspberry jam
You'll also need a baking tray, baking paper and a medium mixing bowl.
Method
Preheat over to 170°C.
Line a baking sheet with baking paper.
In a medium mixing bowl place butter, sugar, lemon rind, vanilla and golden syrup. Beat for approximately 1 minute. Add egg and beat for a further minute. Do not over beat. Stir in sifted flour and coconut until well combined.
Place half the dough mixture on a piece of baking paper and wrap to form a log. Repeat with remaining dough mixture.
Place in the refrigerator for 15 minutes or until slightly firm. Using a serrated knife, cut into 8mm slices. Place on baking sheet and bake for 14 minutes or until golden.
Allow to cool on the tray for 5 minutes then place on a cooling rack.
For the cream filling, place butter, sugar and milk in a medium bowl and beat until light and fluffy.
Once cool, sandwich biscuits together with jam and cream.