You can now sleep in giant five-star wine barrels!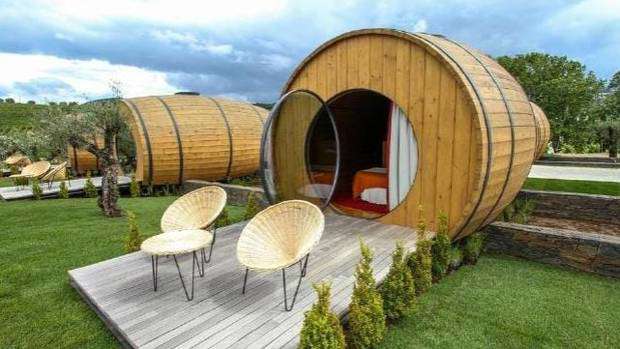 If you can't get enough of wine, then brace yourself ... because this accommodation will be a dream come true for you!
A winery in Portugal has come up with a genius way to experience a vineyard.
Quinta da Pacheca Estate in Douro lets guests sleep just feet from the sprawling vines in luxurious giant-sized wine barrels!
Yes, you read that right.
In addition to their on-site hotel, property owners Paulo Pereira and Maria do Céu Gonçalves designed the 270-square-foot barrel rooms as an added luxury.
"Quinta da Pacheca created the wine barrels as a bold architectural project of suites to reinforce the originality of the wine tourism offered at the site," a vineyard representative told Metro.
"In an idyllic romantic setting, these wine barrel rooms will provide visitors a unique experience to the nature and significance of the Douro wine region."
Situated on nearly 140 acres, each 30m suite is equipped with a whole host of amenities, including private bathrooms, wardrobe, modern fixtures, a walk-in shower, a large round bed, a skylight, a private terrace, Wi-Fi, and air conditioning.
The vineyard even has its own on-site restaurant where guests can enjoy the fruits of the vine, as well as other locally sourced products like jam and olive oil.
This wine-lover's dream could be yours for no less than $400 a night.
Yes, it's a little on the pricey side, but if you're a "wine glass half full" kind of person, it's totally worth it!