Behind-the-scenes footage from 'Bohemian Rhapsody' captures Brian May performing an incredible guitar solo!
Publish Date

Wednesday, 23 January 2019, 3:54PM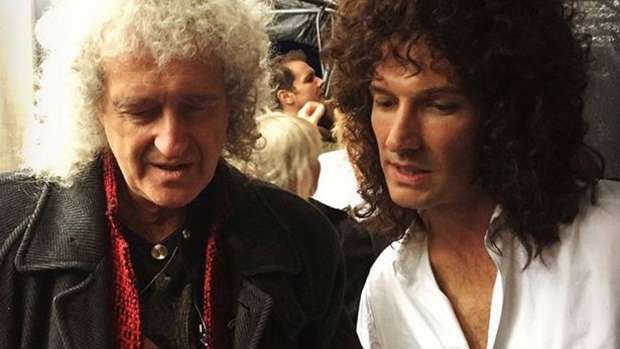 Bohemian Rhapsody is still "rocking on" in cinemas and wowing movie fans all over the world ... but there's a newly released behind-the-scenes clip that's blowing everyone away.
It's no secret the original Queen member's, Brian May and Roger Taylor, played a major role in the production of the biopic, serving as creative and musical consultants on the film.
Clearly loving his experience on set, May has taken to Instagram to share a video of himself absolutely shredding an incredible guitar solo, alongside Gwilym Lee, the actor who played him in the film.

The clip, which was originally posted by director Bryan Singer, shows May and Lee standing in the makeshift studio from the set.
May gave a lengthy caption explaining how the clip came about, writing: "This clip is stolen from @bryanjaysinger, who was evidently filming it on his iPhone. When the BR team were shooting this scene, I happened to be around, so Gwil invited me to have a go ! How did I do, folks ?"
READ MORE:
• Adorable three-year-old girl belts out Queen's 'Bohemian Rhapsody' nailing every single word!
•A crowd of 65,000 fans sing Queen's 'Bohemian Rhapsody' in its entirety - prepare to get goosebumps!
"Well, obviously not quite as good as Gwil ! He's a trained artist ! We had too much fun ! I'd like to see the rest of what happened, captured by the film cameras which were still rolling ... some day," he continued.
"In case you're wondering why this solo doesn't sound like the 'out-take' solo in the film, I only had the idea to make that happen later, when we were polishing the soundtrack. In any case, we wouldn't have had the facilities to do that on the day of the shoot. In the film, you hear a variant take on the Bo Rhap solo which just MIGHT have been the one previous to the final one which made it onto the record! Might ! That's if it hadn't been a genius first-take keeper. Ha ha ! I honestly don't remember!"
Rami Malek and the rest of the cast can also be seen in the background of the video.
What an amazing performance!