The NZ Police have released a special Christmas safety video and it is absolutely hilarious
Publish Date

Friday, 7 December 2018, 9:30AM
Our favourite New Zealand Police officers O'Leary and Minogue (Karen O'Leary and Mike Minogue) from the TV series Wellington Paranormal, to bring a special holiday message.
In a rather hilarious video, the pair asked Kiwis all around the country to make sure they buckle up before heading out on the road over this Christmas and New Year's.
The pair demonstrated on a grumpy zombie who didn't comply with the rules of wearing a safety belt.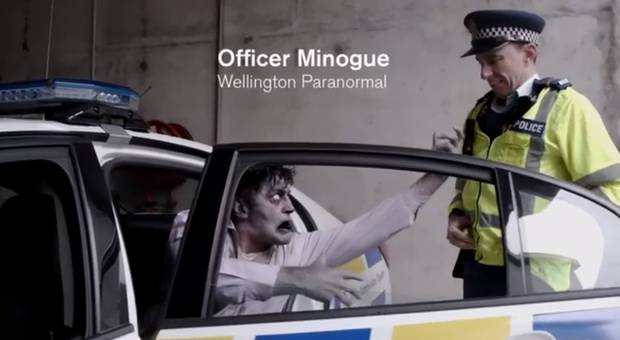 Photo / NZ Police
"You don't want to end up like our mate in the back," officer Minogue points out.
Eventually, the zombie attacks Minogue from behind as the officer didn't make sure the rule breaker was restrained properly.
"I didn't make it click!", Minogue shouts as he's struggling to break away from the zombie.
"We are always thinking about different ways to get our messages across, and this year we thought we'd try to get the serious messages across with a bit of paranormal humour," says Superintendent Steve Greally, National Manager of Road Policing.
"We were lucky to work with the Wellington Paranormal crew and we've got four great videos to share in the lead up to the end of the year, to remind everybody to be safe on the road over summer."
Make sure you buckle up, New Zealand!