Are these the worst Christmas presents to get given ever?
Publish Date

Monday, 11 December 2017, 11:30AM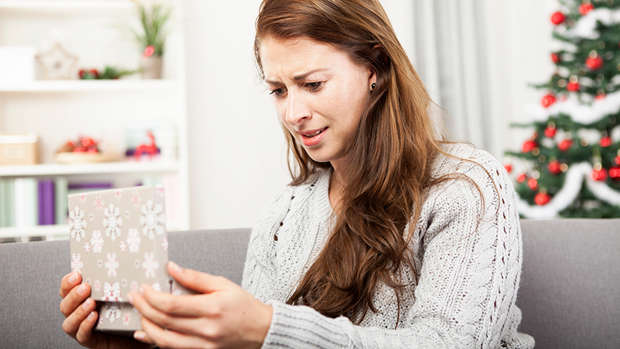 A pair of marigolds, a dead plant and anti-cellulite cream are just some of the most-hated Christmas presents to have been received on Christmas Day.
One unlucky recipient was given a tax disc holder, another unwrapped a mop and bucket, while someone thought a vacuum cleaner was an appropriate gift for a loved one, according to the Daily Mail.
The disastrous gifts uncovered in a poll of 1,500 people in Britain by breakfast spread Marmite, found one in four said they could not remember the last time someone gave them a present they actually loved.
Hand-made gifts like jams and chutneys also made the list of most-hated presents to have been received, as did half-drunk bottles of wine, push up bras, work out DVDs and sexy underwear.
Read more: 10 of the best Secret Santa 
Mums were named and shamed as the most likely to give a poor present according to the poll.
A quarter of people surveyed who get landed with a rubbish present like to exchange it for something else but 34 per cent give it straight to the charity shop.
A philosophical 83 per cent agreed that it was "the thought that counts" but the remainder, 17 per cent, said the cost and extravagance of the gifts you receive that was important.
Marmite spokesman Shannon Lennon-Smith said: "There is nothing worse than having to pretend that you love a present that you really hate."
Most hated Christmas presents   
1. A pair of slippers
2. Second-hand clothing
3. An autobiography of someone I didn't like
4. A workout DVD
5. A hand-made gift like jam or chutney
6. Sexy underwear from my other half
7. A hairbrush
8. An olive oil and balsamic vinegar set
9. Thermals
10. Underwear from a boss
11. Novelty apron
12. An opened box of chocolates
13. A mop and bucket
14. A dead plant
15. A Christmas hamper from the PREVIOUS year
16. Mouthwash
17. Chocolate body paint
18. A naughty calendar
19. Slimming pants
20. A dustpan and brush
21. A coffee mug stolen from a well-known coffee chain
22. A vacuum cleaner
23. A new broom
24. A gym membership
25. Maternity clothes when you weren't pregnant
26. A half-drunk bottle of wine
27. An expired bank notes
28. A push up bra
29. A basket of fruit 'on the turn'
30. Botox
This article was first published on Daily Mail and is republished here with permission.