Man who can taste sounds reveals the flavours of last year's biggest songs
Publish Date

Wednesday, 8 February 2017, 1:09PM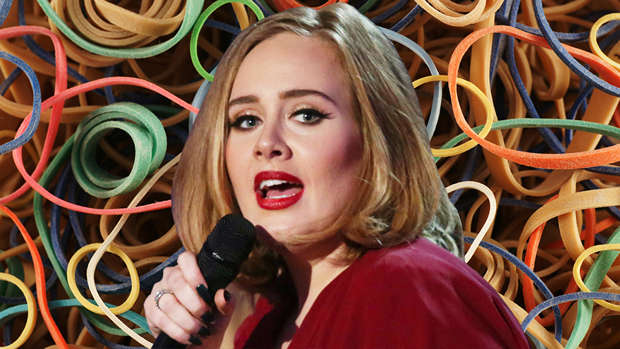 A man suffering from a rare condition which means sounds have flavours for him has revealed what the biggest hit songs of last year taste like.
James Wannerton has synaesthesia, a neurological condition that links senses which are normally experienced separately. For him, taste and hearing are linked.
He put together a list of the biggest songs of the last year and the tastes he associates with them, according to the Daily Mail.
And he reveals that Justin Bieber's Love Yourself tastes like boiled white egg, while Zayn's Pillow Talk is reminiscent of a cold slice of ham.
All of the biggest names in music are included on the music flavour chart, from Adele and Drake to Sia and Shawn Mendes.
But despite the popularity of their biggest 2016 tracks, not all their songs taste that pleasant, according to Wannerton. 
The first taste the president of the UK Synaesthesia Association gets from Adele's Hello is 'big rubber bands,' while 'runny snot' is one of the flavours associated with Mike Posner's hit I Took A Pill In Ibiza.
Wannerton, who teamed up with re-selling website Music Magpie to compile a list of what 2016's hit songs taste like, explained how he can taste sounds.
He said: "For as long as I can remember I have experienced involuntary tastes and textures whenever I listen to a piece of music
"These tastes come from both the sound of the instruments being played plus the sound of the lyrics and these synaesthetic tastes are a very real mouth-feel, not just a simple association. They arrive one after another, a little like a fluorescent light being repeatedly switched on and off.
"For example, the sound of certain guitars played in a certain way gives me a very strong taste and texture of the crinkly chocolate part of a McVitie's Digestive biscuit. A particularly high piano note may produce the taste and texture of a small, sweet tinned pineapple chunk.
"These tastes follow one another in a long procession, giving a piece of music a taste sequence in addition to the song's own musically structured beginning, middle and end.
"It's an additional perception that can either enhance the music or make it very difficult to listen to or indeed like."
Black fruit gum, Bakewell tart and chipolata sausages are just some of the taste sensations James experienced as he listened to the top songs of last year to create the music flavour chart.
When listening to Drake's One Dance, James tasted warm water, mixed with black fruit gum, wet cotton thread and Rice Krispies. 
Liam Howley, marketing director at musicMagpie.co.uk, said: "James has brought a whole new meaning to music taste and with his help we've managed to create the most flavoursome music chart to date.
"It's fascinating to see the mix of flavours that some of the best songs from the past year has created for him and we hope that the list tickles the taste buds for music fans everywhere."
WHAT 2016'S HIT SONGS TASTE LIKE
Drake – One Dance: Warm water, mixed with black fruit gum, wet cotton thread and Rice Krispies.
Lukas Graham - 7 Years: Tinned pineapple chunks, Spangles, Mars Bar and Lucozade.
Mike Posner - I Took A Pill In Ibiza: Mashed up hard-boiled egg, warm orange juice, thin bacon and runny snot.
Sia - Cheap Thrills: Tomato Ketchup, thin, dark chocolate and Quavers.
Calvin Harris - This Is What You Came For: Chipolata sausages, bread soaked in tomato soup, cucumber, pineapple and wafer biscuit.
Zara Larsson - Lush Life: Bakewell tart, dollops of strawberry jam, limeade and bread and jam.
Rihanna - Work: Stewed rhubarb, green fruit gums, ham, and soft plums 
Justin Bieber - Love Yourself: Toasted sugar sandwiches, boiled egg white and Parma Violets 
Shawn Mendes - Stitches: Thick, chocolate mousse, tinned peach slices, chocolate chunks and lemon drops.
Jonas Blue - Fast Car: Chewing gum, salt and vinegar Pringles and blue biro Ink 
Zayn – Pillow Talk: Fat slice of marzipan. Almond slices. Cold slice of Ham, curling at the edges. 
Adele - Hello: Big Rubber Bands. Fresh Melon. Caramac. Orange pips.
Chainsmokers - Closer: Warm buttered toast, smoked ham, apple slices and chocolate orange.
Justin Timberlake - Can't Stop The Feeling: Gripe water, corned beef, cold tea, and toast crumbs.