Married woman fires back at cheating husband who wanted to have an affair
Publish Date

Thursday, 6 July 2017, 12:26PM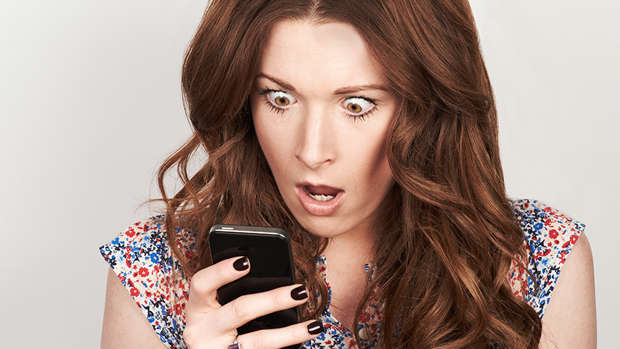 A woman is being praised online for shutting down a married man who suggested that they have an affair.
The anonymous Imgur user shared her story on the website over the weekend, revealing the moment she received a private Facebook message from someone she had previously discussed politics with.
"It was innocuous until this week," the woman said of their previous conversations on Imgur after posting.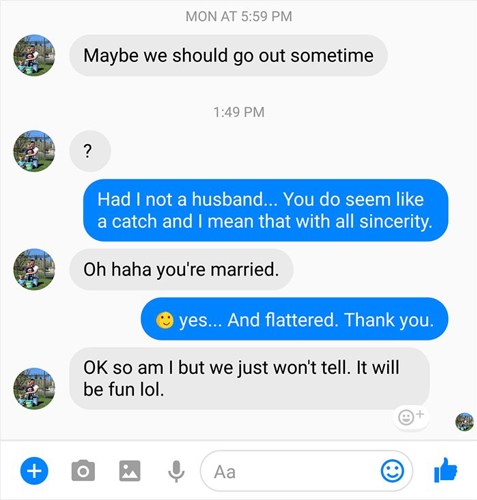 In a pair of screengrabs shared online, a man posing with two children in his profile photo wrote: "Maybe we should go out sometime."
It appears that the woman initially ignored his advances, only responding after he sent a single question mark at a later date.
At that point, she responded politely: "Had I not a husband ... You do seem like a catch and I mean that with all sincerity."
The man seemed surprised to hear that she was married, and she added that she was "flattered" by his attention.
But it seems that he took her friendly responses in completely the wrong way, as he revealed that he, too, is married. 
"But we just won't tell," he said. "It will be fun lol."
Again it appears as though the woman simply ignored his message until he followed up later with a crying emoji.
Seeing that the man was clearly not taking the hint, the woman responded with a lengthy story about her love for her husband.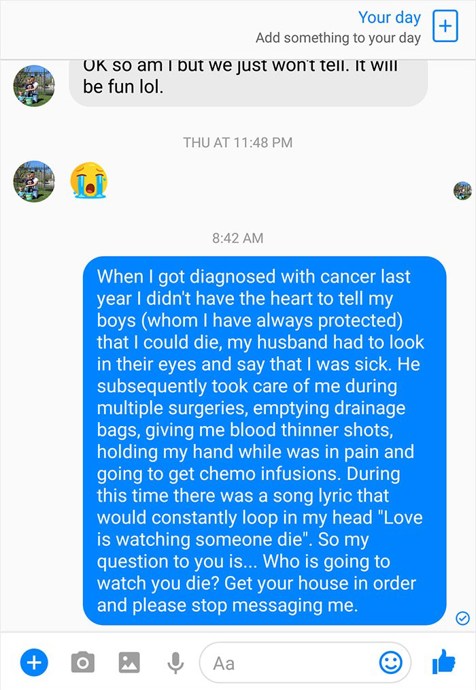 She revealed that she had been diagnosed with cancer the previous year and her husband informed their children of her sickness when she felt she didn't have the strength to do so.
"He subsequently took care of me during multiple surgeries, emptying drainage bags, giving me blood thinner shots, holding my hand while I was in pain and going to get chemo infusions," she said.
While going through all this with her husband by her side, the woman explained that she had a song lyric from Death Cab for a Cutie's What Sarah Said stuck in her head: "Love is watching someone die."
With that being said, she finished her message to the man by asking: "Who is going to watch you die? Get your house in order and please stop messaging me."
As of the time of the screen grab, the man had yet to read the message, so its unclear what, if any, rebuttal he may have had to the woman's clap back.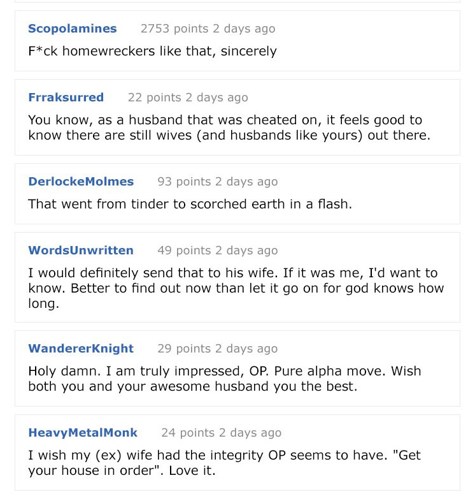 The post has been viewed on Imgur more than 380,000 times in just two days, and the comment section is chock full of people not only supporting the woman in her incredible response but congratulating her for beating cancer. 
"Power moves only. Well played," wrote one user, while another added: "Pure alpha move. Wish both you and your awesome husband the best."
This article was first published on Daily Mail and is republished here with permission.