Mum slammed by Kiwi parenting group over bathing ban for husband
Publish Date

Thursday, 21 December 2017, 9:00AM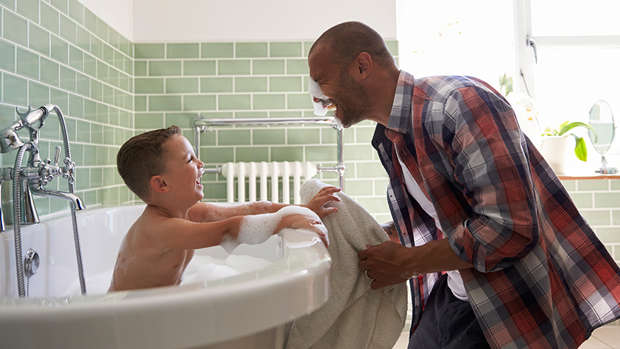 An Australian mother who has banned her husband from bathing their young daughters has been slammed by Kiwi parenting organisations, with one labelling it "sad" for not only the father but also the children.
The Queensland woman says she refuses to let her husband bathe them as she doesn't "feel comfortable for a man to do this".
The woman explained that she feels her husband shouldn't bathe their young daughters "because they have different body parts".
"Hubby thinks I think ill of him, but it's always been this way for me.
"People play the 'I was molested card' so very often these days, I just don't want in any way to give my kids the chance to even think about that."
Her husband has been left angry, upset and frustrated at the decision.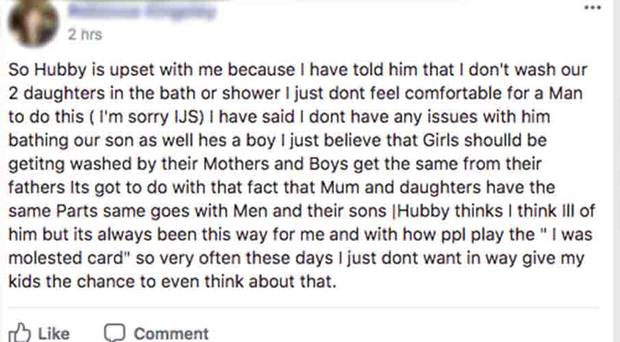 Photo / Facebook
But Kiwi parenting support organisation Parent Help has been left dumbfounded by the woman's decision.
Helpline co-ordinator Louise Rolfe said fathers bathing their children was a "very normal thing to do".
"I think it's very sad, this kind of paranoia. The world we live in today people are so frightened of doing the wrong thing that they end up throwing everything out the window, with all sense of reason."
Rolfe said her own husband bathed their children and it was a great bonding time for them both.
"It's one of the joys of fatherhood isn't it, bathing your child ... an ideal opportunity to have some fun, make lots of bubbles in the bath, play with some bath toys and an opportunity to bond and it's a really special thing I think, especially with babies as well.

"I think it's sad if somebody feels they don't want them involved in that aspect of the child's care."
She had never heard of a parent making this decision before.
"I understand there's a real environment of people coming out and revealing past sexual abuse and I think that's a good thing but i wonder if this is maybe a concern too far?
"My own feeling is if you really feel your husband can't be trusted with your children maybe you shouldn't be with him?"
Rolfe said the child eventually chose their own time to start bathing on their own.
She believed most Kiwis had enough common sense not to worry about which parent was bathing which child.
"I don't think it's something that [parents] should be worrying about it."
Herald readers have come out, almost unanimously, in support of the father with 91 per cent of responders in an online poll disagreeing with the woman's actions.
Herald Facebook page followers were also aghast.
One woman wrote, "I don't even understand it. That poor husband and children. There's nothing sexual or inappropriate about a father bathing his children," while another said "He has every right to feel, angry, upset and frustrated ... Trust is the glue that holds a marriage together ... sadly this one looks like it is about to come apart at the seams."
Another Kiwi mum wrote, "Hubby and I have eight kids, its a total zoo in the bathroom and bathtime, if he didn't help out, there would be flooding in the hallway, kids running naked down the road and dirty children hiding in the rooms, I appreciate his help and would never ban him from helping."
• Anyone who has any queries or wants parenting tips can phone Parent Help on 0800 568 856.
This article was first published on NZ Herald and is republished here with permission.