Newlyweds searching for wedding crashers who left $1 gift and card
Publish Date

Thursday, 10 August 2017, 12:19PM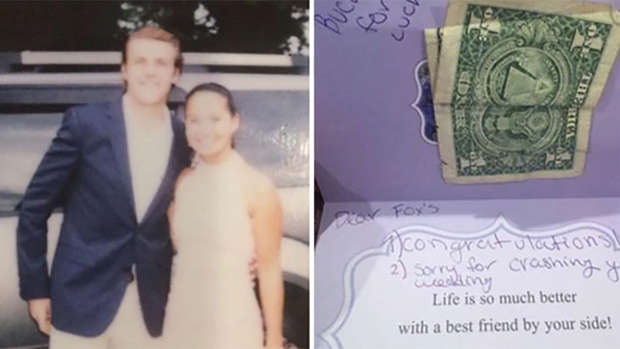 A couple who had their wedding crashed by two people in the US are now using the internet to try to locate them.
The wedding crashers, a man and a woman, were spotted in different wedding photos and did not make an effort to go unnoticed.
The bride's maid of honour, Aimee Boardman, told ABC 7 News that the couple, a tall man and a blonde woman, caught her attention as they did not seem to fit in with the rest of the guests.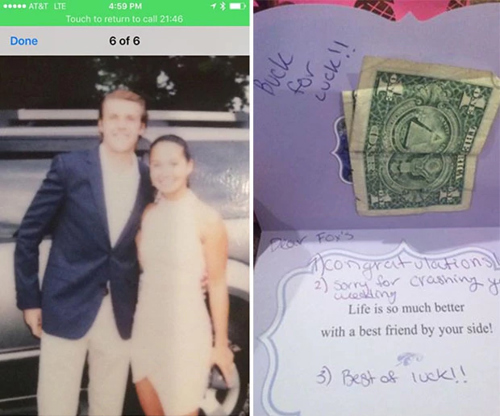 The newlyweds are now looking for the couple who left them "a buck for luck". Photo / Facebook

The bride was reportedly suspicious on the night as well but kept getting sidetracked and never had a chance to ask the groom if they were his friends.
The next morning, she opened a card from the wedding crashers.
It had a $1 note in it - "a buck for luck" - and the message: Dear Fox's, 1) Congratulations!
2) Sorry for crashing your wedding 3) Best of luck".
The card also included a Polaroid picture of the couple that they had taken outside the wedding venue.
The newlyweds have now turned to Facebook to try to find the couple.
The bride said in a Facebook comment that the two had "made her day". "I need to meet these people and buy them a drink," she added.


This article was first published on NZ Herald and is republished here with permission.