Plus-size model shuts down fat-shamer on flight in the best way possible
Publish Date

Tuesday, 4 July 2017, 2:40PM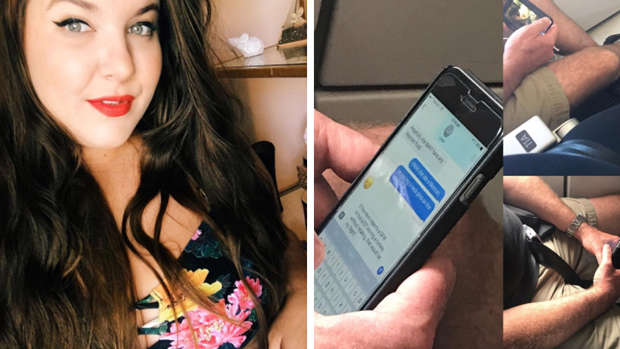 A plus-sized model is sharing her story after she was fat-shamed for her weight by the passenger next to her on her flight.
Natalie Hage was headed to Los Angeles on an American Airlines flight when the man next to her began making it obvious that he wasn't thrilled by her presence next to him, the Daily Mail reports.
Hage had paid an additional $US70 for extra leg room but soon found herself anxious as her seat was in the middle.
No sooner had she sat down than the man next to her began "LOUDLY huffing, sighing, and readjusting himself in his seat" for more than 20 minutes before the model notices him text furiously while turning the phone away from her. So of course, she looked.
"The texts were about me and I'm almost positive he took photos of me," she said in an Instagram post showing photos she had snapped of the alleged conversation.
"Not only were the texts about me, but they were really mean and ugly, with even the recipient named 'linda' chiming back with shaming retorts...someone who can't even see the situation."
And while the text in the photos are seemingly difficult to read, Hage does offer some insight as to what they say.
She added: "It says 'hopefully she didn't have any mexican food' and his response is 'i think she ate a mexican'.
"Then he proceeds to say he's leaving a 'neck mark on the window' because he's so smashed against the wall. From the photos, you can see i'm not in his space."
Hage claimed that the man even took up both arms rest and digged his elbows into her side which she said was in her seat.
She managed to snap his next text which said "if the news reports a DFW airbus a321 leaving the runway without rotating, that would be my flight."
And another that said "if these seats don't hold, it's not going to matter" along with many more, according to the model.
Hage claims that she even asked the man to her right if they could switch and informed him of the situation but that he just 'laughed and refused' which she felt was fine given "it's not his issue".
"This is a fat person's daily reality and not just on a plane. this is on a bus, standing in line at the grocery store, at a concert, on the internet," she said.
You can be completely in your own space, not bothering anyone, and people will still f*** with you and try to hurt you.
"All you can do is know you haven't done anything wrong just by existing and to move on."
But the model did post her confrontation with the man on Facebook, receiving words of support from family, friends and fans.
In the video, Hage points out that the man was texting about her, to which he denies, before the model recounts some of the text she saw.
The man then claims to have been drinking before going on the defensive saying that he had decided to "be nice to" her by offering the corner of his tray table.
"For what? i didn't have anything to need it and wasn't doing any activities while flying because i was crumpled in a ball," she told Dailymail.com
But then, the man -supposedly under the influence of alcohol - chastises her size even further attempting to explain why she shouldn't sit in the exit seat.
Hage then schools the man on her reasoning for being on the flight, having a scheduled photoshoot in Los Angeles, and lets him know the power of his words and the impact that they had on her time on the flight.
The video has had over one million views and over 7,000 Facebook reactions with most supporting the woman's strong resolve.
In a following Instagram post, the model shared her thanks for all the warm words of love people had for her.
"Thank you so so so much for the messages and comments overflowing with kindness," she said of the post. "My heart is full."
This article was first published on Daily Mail and is republished here with permission.