This couple celebrated losing nearly 265kg together by getting married!
Publish Date

Tuesday, 16 May 2017, 2:38PM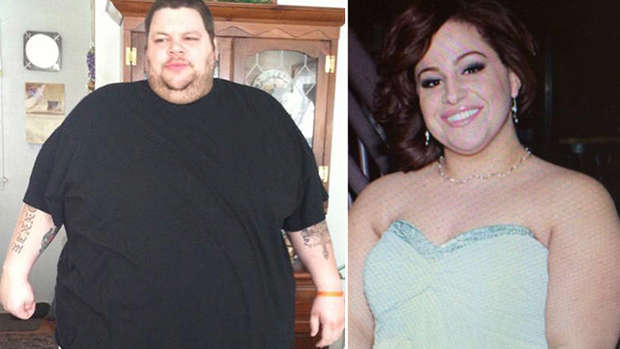 Two years ago Andrea Masella, 24, and Ronnie Brower, 32, met at their local gym.
They were both single and had a mission to get healthy, which is what attracted them to one another.
After losing an impressive amount of weight together - a total of 262kg - the couple has gotten married!
"Our first date was at the gym playing ping-pong and basketball," Ronnie told ABC News 11. "We love to work out."
Four years ago, Ronnie weighed 306kg.
He changed his diet, cut out drugs and alcohol, and sought help from a personal trainer.
"I was depressed, addicted to pills and alcohol, eating 10 double cheeseburgers or two large pizzas at a time," Brower said. "My turning point was, my doctor told me if I kept on like this I'd be dead before I was 30. I was 28."
He lost 207kg pounds and had four skin removal surgeries.
"I was just really inspired by him and I thought he was super cute," Andrea told ABC News. "We started talking at the gym and I hate to sound cliche but it was love at first sight."
When they met, Andrea weighed in at 114kg.
With exercise, nutrition changes, and counseling, she dropped 55kg.
"Both of us had used food as a coping mechanism—I would just eat my feelings," Andrea said. "We've gone through a lot of counseling to come to terms with that and change."
"People come to me all the time, asking for weight-loss advice," Ronnie said. "I just tell them there's hope out there. If you want it bad enough and put your mind to it, anybody can do it."
On May 13, the couple wed in New York and are now honeymooning in Mexico.
Thanks to their bond over that shared mission, the couple are celebrating their new lives and all they've "lost" together.
Nick Murphy, Brower's personal trainer who also will be his best man, calls them "a match made in heaven, a storybook movie."
Masella said she and Brower plan to continue to support not only each other in their commitment to maintaining a healthy lifestyle, but to counsel and inspire others as well.
Congratulations Mr. and Mrs. Brower!