This girl's cleaning hack will make your gross old kicks shockingly white
Publish Date

Thursday, 19 October 2017, 12:44PM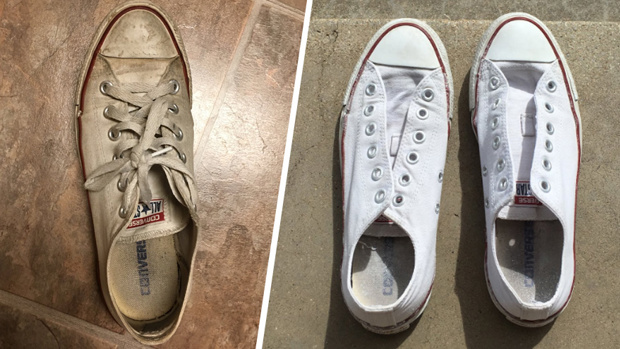 Before we go further, we want to acknowledge that some of you will reply "duh" when you read this.
But, for anyone who's ever wanted to wear their white converse with an outfit before realising how disgustingly dirty they are, this one's for you!
Most people will just shell out another $100 for a new pair of sneakers, but some are willing to save the shoes. All it takes is the right combination of cleaner and a bit of old-fashioned elbow grease.
So how'd she do it? Sarah shared her secret.
Here's a mashup of a couple Sarah's directions mixed in with some hot tips from BestDIY.Tips:
Remove laces (if applicable).
Rinse shoes with water.
Mix a solution of 1:1.5 baking soda and laundry detergent
Use a soft-bristled toothbrush to lightly scrub shoes with mixture
Let sit for a bit.
Rinse.
Put in an old pillowcase or laundry bag, and wash alone on your washer's low setting in cold water, with 1/2 cup of detergent.
Allow airing dry.
Regardless of how it's done, the results will blow your mind away, or at least make those sneakers look like you haven't worn them every day for 3 years.