This super simple trick for cleaning baking trays will change your life!
Publish Date

Friday, 22 February 2019, 2:39PM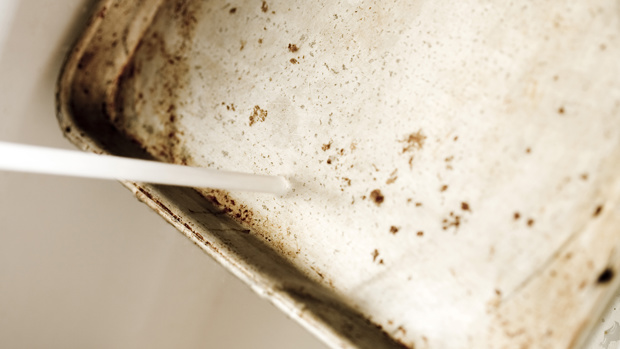 Don't you just hate those hard-to-remove stains on your baking trays? 
Now a lifestyle blogger has revealed a clever way of keeping your tins sparkling clean.
Jill Nystul, from Utah in the US, found that a combination of baking soda and hydrogen peroxide is the perfect cleaning concoction.
The blogger, who also gives other cleaning tips, said: 'After sprinkling the spot with baking soda, spraying with hydrogen peroxide and then another layer of baking soda, I left it sitting there like that while we went to breakfast. 
"When we got home I rubbed a little of the cleaner off and was actually quite astonished to see most of the gunk came right off.
"Minimal rubbing was required."
Both baking soda and hydrogen peroxide are relatively cheap and easy-to-find household cleaning items.
READ MORE:
• This mum's 'genius' carpet cleaning hack is blowing parents' minds!
• This SUPER simple ironing board hack will HALVE the time it takes you to iron!
It is not the first time the materials have been put together, with some using the combination as an at-home tooth whitener, leading to warnings from dentists. 
Some wrongly advise brushing teeth with soap, salt, baking soda and even the bleach hydrogen peroxide as a cheaper alternative to having them professionally whitened. 
Dentists warn that some of the DIY treatments can dissolve the enamel of the teeth so they actually look darker in colour. 
The DIY treatments are being posted on the internet by ordinary members of the public - often teenagers.  
HOW TO CLEAN YOUR TRAYS... 
1. Sprinkle the tray with a small amount of baking soda.
2. Spray with hydrogen peroxide.
3. Add more baking soda on top.
4. Let it rest for up to two hours.