Woman reveals how she overcame an eating disorder and years of yo-yo diets to shed 35kgs
Publish Date

Wednesday, 27 June 2018, 11:30AM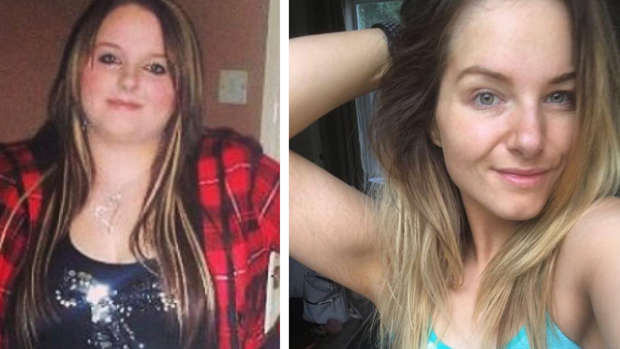 A woman who has lost 35kgs over the course of a decade is proudly showing off her incredible physical transformation after years of yo-yo dieting and struggling with an eating disorder. 
By following a vegan diet and a gruelling exercise routine, the Instagram user @hannah_tracks has gone from 100kgs to 65kgs, and her stunning before and after photos have earned her more than 69,000 followers, the Daily Mail reports.
In a recent post, Hannah, 29, opened up about her weight loss, writing: "My transformation has taken me 10 [years]."
She shared an old snapshot of herself wearing a pink slip when she was overweight alongside a current picture of herself modelling crop top and lace underwear to show just how much her body has changed.
Hannah said she started her weight loss journey in 2008 with Weight Watchers, and while she lost 22kgs on the program, she stopped counting points after going on vacation and ended up gaining all the weight back. 
"I then did a whole host of unsustainable, unfulfilling and unhealthy diets: 5.2, Atkins, Juice+, 10-day fast, all sorts! None kept the weight off because I was so unhappy whilst doing them!" she explained. 
She eventually learned to love exercising, but she developed an unhealthy focus on losing weight after the end of a seven-year relationship left her devastated.
"I'd lost control over my life and all I could control was my body and I became very unwell," she wrote. 
"I developed an eating disorder; Atypical Bulimia - I would restrict my food intake all day and then when I ate I threw it up."
In addition to throwing up her meals, she would take 10 laxative tablets a day. At her lowest weight, she was 58kgs. 
Hannah eventually sought help for her eating disorder and underwent 18 months of weekly cognitive behavioural therapy sessions. 
During her time in treatment four years ago, she found a "healthy maintenance weight" and decided to join a gym.
The fitness lover said she "fell head over heels in love" with training and clean eating, which ended up transforming her entire life. 
One commenter wanted to know if she had loose skin on her stomach that she needed to have removed, but Hannah insisted she hasn't had "any surgery whatsoever."
"I have loose skin around my stomach, but it's not hanging," she explained. "I'm still rather young and this process has been slow and gradual ... 10 years to be exact! I weight train and have done for around five years now, so the skin has tightened."
In another post, Hannah admitted she has cellulite and certain areas of her body aren't toned, but she noted that accepting those perceived flaws only "empowers" her. 
"I have a baby belly and boobs with absolutely no children to show for them. I'm 30 this year and OK, I don't look in the mirror and go, 'oh, I look fantastic!' of [course] I don't," she wrote. 
"Nobody is perfect! I definitely have body issues, but everybody does and when you come to the realisation that seriously.. EVERYONE DOES.. even the people you consider flawless, then you can start to live with the way you are."
Hannah said that after seven years of eating disorder recovery, she is finally able to look in the mirror without wanting to starve herself, vomit, or punish her body into submission. 
In addition to sharing before and after photos of herself on Instagram, she also posts her favourite vegan recipes and pictures of herself working out at the gym. 
The rising Instagram star said she weight trains five times a week, and she also does high-intensity interval training (HIIT) and low-intensity steady state cardio (LISS) three to five time a week.  
"I don't count calories, I don't count macros, I don't use MyFitnessPal. Truth? I eat well... really well... I eat everything, fruit, veg, carbs (hella lotta carbs!) nuts, grains, sugar, salt, high-calorie meals, low-calorie meals,' she shared in one post. 
"I eat whatever I want to eat and I train hard... I bloody love the gym, I love feeling strong, I love my body and everything it's been through.. the stretch marks, the cellulite, the skin that I'm in has been with me through everything & that gives me all the feels."
This article was first published on Daily Mail and is republished here with permission.