Women are proudly celebrating their curvy 'hip dips' - and we love it!
Publish Date

Tuesday, 27 June 2017, 1:23PM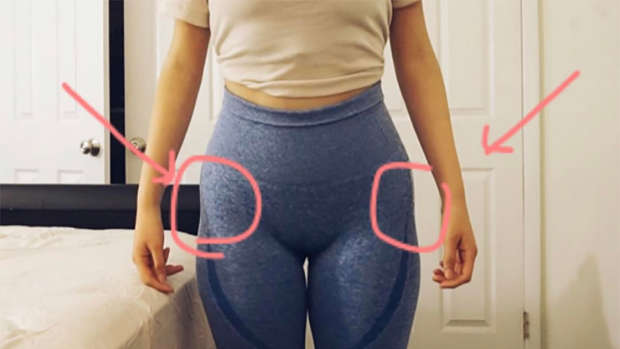 Women on Instagram are paying tribute to their "hip dips" after years of struggling to accept this - completely natural - part of their bodies.
"Hip dips" are creases that often appear below the hips at the top of the thighs, and create an inward curve around that area.
Many women recounted struggling to accept them for years because they felt the dips weren't part of the ideal figure they envisioned, even though a vast number of people have them, according to Daily Mail.
Now, these women are on a quest to reclaim the oft-maligned "hip dips". They have even created a hashtag specifically dedicated to them, which currently renders more than 1,300 posts on Instagram.
They have shared selfies in tight clothing, proudly showcasing the dips, and opened up about their personal journeys of acceptance in the accompanying captions.
In one especially poignant post, a woman recounted asking her mother for liposuction when she was just 11 because she wanted to get rid of her hip dips.
"Remember how we complained about these in high school?" the woman wrote next to two photos of herself in black leggings. "I remember at 11 years old, I asked my mum for liposuction to decrease my thighs, and then pump the fat into my 'hip dips'."
The mum, however, had a humorous reaction to her young daughter's request. 
"She then asked me to bring a knife from the kitchen, that she would perform the surgery for free," the woman, who posted under the username Audineaka, added before celebrating her hip dips further.
"Funny how things become trendy. I am trending. Will enjoy the moment," she wrote.
Another woman wrote an emotional love letter to her entire body, hip dips included and opened up about her long journey to self-acceptance.
"I've had a lot of issues around my body, and because I'm not large, I've always been dismissed, as if my struggles aren't real because they aren't the same struggles as others. I used to workout because I wanted to look better," the woman, identified as Jesica or little_yogi_mama, wrote.
"I hated that I had #hipdips or saddlebags as the older generation called them, and that I had cellulite on my rear end. I now absolutely LOVE how strong my body is, even when my stomach isn't flat and I have a double bum."
The woman, a mother of two, celebrated her body for giving birth to two human beings, as well as other accomplishments. 
"I LOVE that I'm strong enough to pick up my husband and piggyback him around the house," she added.
"I LOVE MY HIP DIPS AND MY CELLULITE AND MY FRECKLES AND MY WRINKLES AND SAGGY MOM TUMMY AND MY CROOKED TEETH AND MY 'PROBLEM SKIN'".
"I love everything that I used to hate. Because, not a single person in this world, is just like me and I'm f*****g awesome. So are you. You are awesome. And beautiful. I love you. I hope you love you too!!"
The hashtag seems to have inspired others to embrace their hip dips. One woman wrote that she thought she was the only one who had them, but felt much better about herself after perusing it.
Another woman said she had felt somewhat insecure about her hip dips all her life, until she learned more about them in an article. 
"Turns out your hips are just high, it's literally how the skeleton is. It is not a deformity," the woman, going by Girrlscout, wrote.
"I reposted this article and saw so many friends of mine have the same surprised and calming reaction. It personally made me feel so much better. So let me scream it from the back—it is Normal. You are not alone. You are beautiful."
This article was first published on Daily Mail and is republished here with permission.