2016 NCEA pass rates: how does your child's school rank?
Publish Date

Monday, 17 April 2017, 9:11AM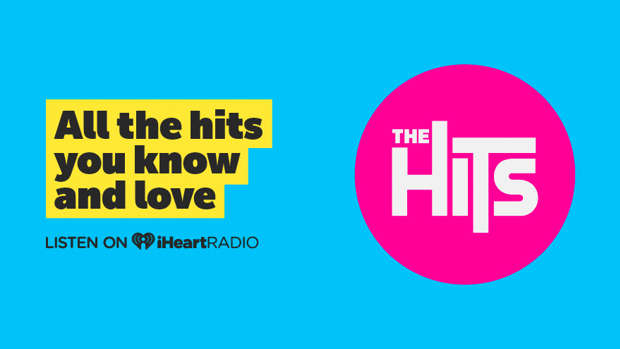 Achievement rates based on the 2016 NCEA results have now been released.
The annual National Certificate of Educational Achievement (NCEA) statistics show that many schools have lifted their pass rates. Decile 1 Te Wharekura o Rakaumangamanga in Huntly matched the best top-decile schools with a 100 per cent pass rate for Year 12 students attempting NCEA Level 2.
The national average pass rate rose slightly from 88.5 per cent of those who attempted Level 2 in Year 12 in 2015 to 89.9 per cent in 2016.
Averages increased most in lower-decile schools, up from 81.5 per cent to 84.2 per cent in deciles 1-3. There were smaller increases from 87.9 per cent to 89 per cent in deciles 4-7 and from 92.8 per cent to 93.6 per cent in deciles 8-10.
How did your school rate?
Click here for a table that shows 'percentage of participating students who achieved this qualification by the end of the academic year of interest'.
Decile 10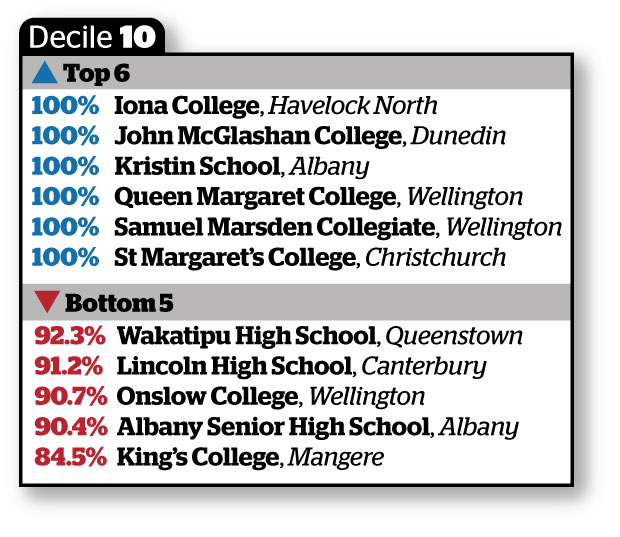 Kristin School in Albany and John McGlashan College in Dunedin joined four other private schools in the latest data with 100 per cent Level 2 pass rates in Year 12.
King's College was the bottom-ranked decile 10 school, with a pass rate of 84.5 per cent at Level 2 in Year 12. Cambridge International Examinations manager Roger Franklin-Smith said that was because most King's students sat Cambridge exams, not NCEA.
Decile 9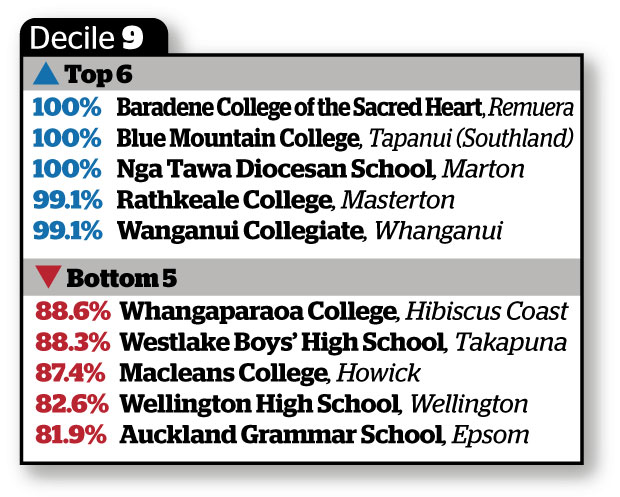 Cambridge exams also distort results in decile 9, with Auckland Grammar School showing the lowest Level 2 pass rate in Year 12 (81.9 per cent). Franklin-Smith said more than 90 per cent of Grammar students sat Cambridge exams.
Decile 8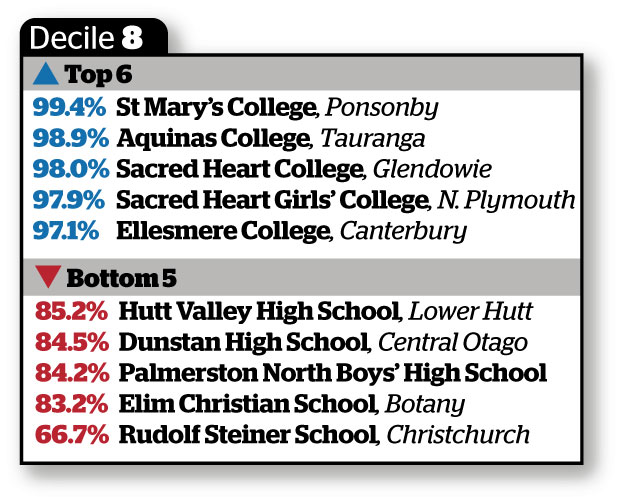 The biggest change was at the small Rudolf Steiner School in Christchurch, with just 21 students in Year 12 last year, where the Level 2 Year 12 pass rate fell from 94 per cent to 67 per cent.
Decile 7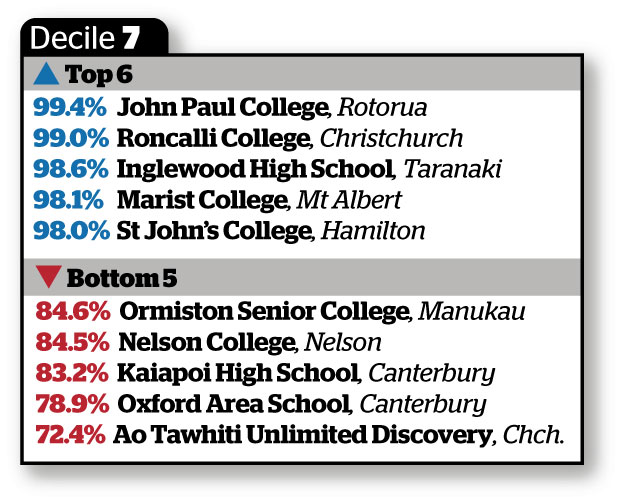 Catholic schools made up three of the top four decile 7 schools. Bottom-ranked in both Years 11 and 12 was Ao Tawhiti Unlimited Discovery in Christchurch which says learners "are encouraged to be creative, innovative and take risks".
Decile 6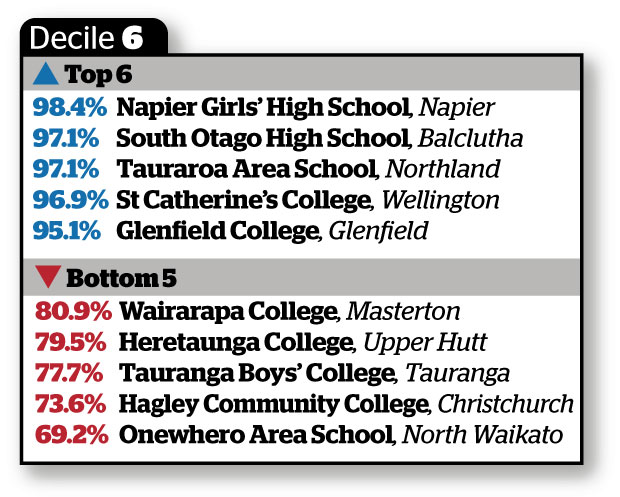 Glenfield College on Auckland's North Shore jumped into the top five decile-7 schools. Its Level 2 pass rate in Year 12 rose from 81 per cent to 95 per cent.
Decile 5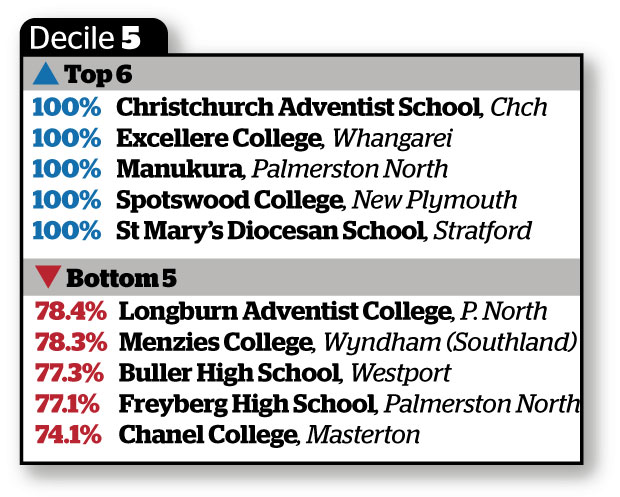 Five decile 5 schools achieved 100 per cent pass rates for their Year 12 students in NCEA level 2. Nathan Durie, who leads Manukura in Palmerston North, said his school gave its 185 mainly Māori students "a sense of themselves, of confidence".
"They haven't learnt that they are dumb," he said. "The hardest part to overcome is the learnt 'dumbness'.'"
Decile 4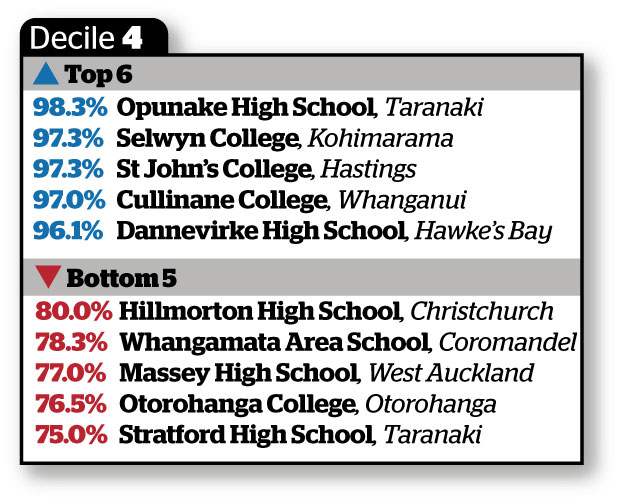 Otamatea High School at Maungaturoto registered the biggest gains in decile 4, with pass rates for students attempting Level 2 in Year 12 up from 64 per cent in 2015 to 91 per cent.
Decile 3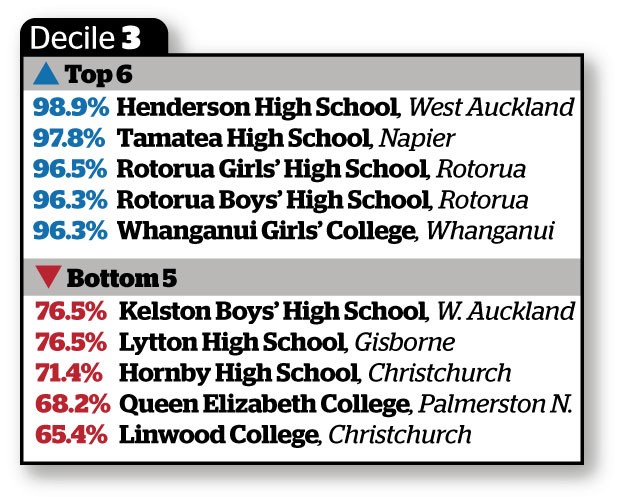 Henderson High School achieved the highest decile 3 Level 2 pass rate in Year 12 (98.9 per cent). But nearby Kelston Boys' High School's pass rate slipped from 86 per cent in 2015 to 76.5 per cent.
Decile 2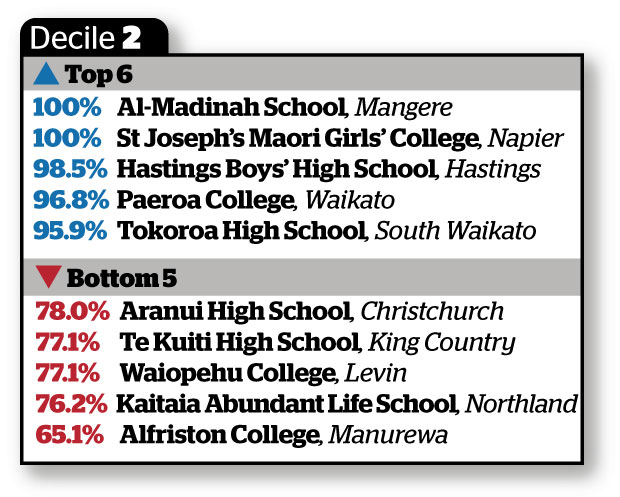 Coeducational Māngere-based Muslim school Al-Madinah and St Joseph's Māori Girls' College in Napier achieved 100 per cent pass rates in Level 2 at Year 12.
Decile 1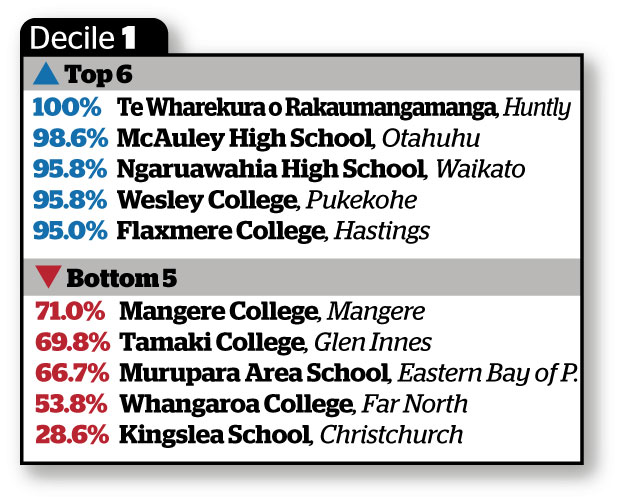 Ngata Memorial College performed much better at Levels 2 and 3 than at Level 1. Its Level 2 pass rate in Year 12 was 92.3 per cent, just missing out on the top five schools for the decile.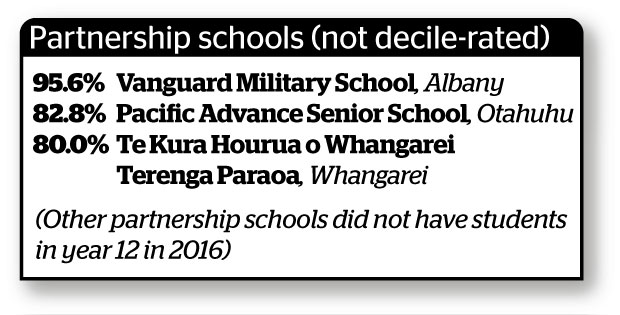 - This article originally appeaed in the NZ Herald and was republished here with permission.