A local state of emergency has been declared in Dunedin
Publish Date

Thursday, 1 February 2018, 3:11PM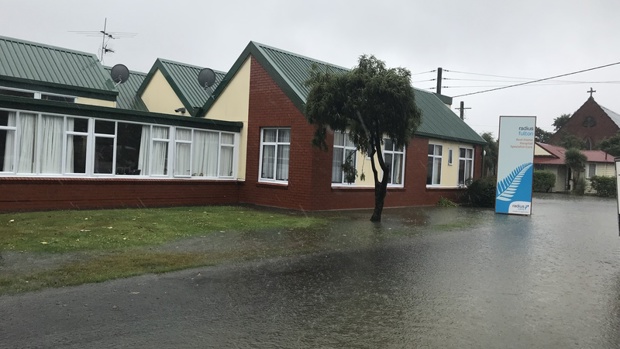 Evacuations under way in Nelson, Mapua, Richmond, Westport and Waitara as ex-cyclone Fehi bears down on New Zealand
State of Emergency declared in Dunedin and in the Buller District
Wellington hit by winds above 110km/h, some flights cancelled
South Islanders warned to say away from beaches and exposed areas
Auckland's Tamaki Drive now open again after king tide sparked closure and morning traffic chaos
Roads are closing in Tasman, flooding has hit Auckland, and Dunedin is preparing for a deluge as a summer storm hits the country.
Wellington is being hit by winds gusting over 110km/h, Niwa reports, and nine flights out of the city have been cancelled.
Ex-cyclone Fehi's fury has also sparked severe wind and rain warnings for the South Island, where people are warned to stay away from beaches and exposed areas. Strong winds lashing parts of the country have lifted roofs and sent trees crashing into powerlines.
Major evacuations are under way at Mapua, Richmond and Nelson because of flooding and winds gusting up to 90km/h are driving sea water over key arterial route Rocks Rd in Nelson.
Two waterfront restaurants have been evacuated and closed and a motor camp at nearby Mapua has also been evacuated because of the tidal surge.
Numerous roads around the Nelson region have also been closed.

People are being ferried from their flooded homes in surf life-saving boats as strong winds reaching 90km/h clash with high tides in Monaco.
Campgrounds are also being evacuated in nearby Ruby Bay.
Winds reaching 100km/h have lifted roofs between Hokitika, Greymouth, Cobden, Rununga and Dobson.
Power is intermittent in Franz Josef, which has been drenched with more than 145mm of rain.
A heavy band of rain crossed Auckland this morning, where a king tide flooded the busy Tamaki Drive and blocked the left lane on the soundbound approach to the Harbour Bridge at rush hour.
North Islanders woke to a blustery morning. Auckland recorded the windiest start, with 67km/h winds blowing through the city.
But WeatherWatch says most of the action will be in the South Island.
Civil Defence is warning South Islanders to stay on their toes as Cyclone Fehi hits with severe wind and rain.
Weatherwatch expects Fehi to bring gale-force winds to Canterbury, Fiordland and Otago this afternoon.
A Weatherwatch spokesperson said: "For the most part this is a South Island storm but some very heavy downpours are expected in the North Island and dangerous beach conditions along the western side."
The storm has closed Greymouth's CBD on the West Coast and is now heading for Canterbury. It will be followed by a strong, cold, southerly, which could bring snow to the ranges overnight, including the ski fields around Queenstown.
The storm is appearing to move faster than forecasted yesterday, meaning lower rainfalls, but the tropical nature of the rainband means flooding is still highly possible.
Christchurch Transport Operations Centre is warning motorcyclists, campervans and high-sided vehicles to take extra care from Ross to Haast.
The centre recommends motorists travelling on SH94 from Te Anau Downs to Fiordland National Park take extra care and expect delays because of the severe weather warning in place, and also in Central Otago where there has been surface flooding and minor rock falls.
About 80mm to 130mm, possibly more, is expected to fall across Otago until tomorrow morning, with peak intensities of 15mm to 25mm per hour.
Dunedin City Council 3 Waters group manager Tom Dyer said the rainfall is unlikely to cause major flooding problems around Dunedin.
"There may be more run-off in some areas because the ground is dry after a long spell of hot, dry weather," he said.
''Slips may be a problem and we will be keeping a close eye on the roads.''
Residents in Central Otago may have a shock with the lowest temperature throughout the country this morning, sitting just below 13C - a cool difference from the mid-30s they have been experiencing for the past week.
The unseasonable storm is also expected to bring snow to as low as 1000m in some areas and on many of the South Island's skifields, but it is unlikely to settle enough for people to be able to get on their skis and snowboards.
The odd shower then afternoon rain with heavy falls, perhaps even a thunderstorm, is also expected in the north.
Coastal storm warnings are in place and strong winds are expected in the Manukau and Waitemata Harbours, as well as the Hauraki Gulf.
Civil Defence group controller Chris Hawker said residents need to tie down and secure loose items on their property.
"Making sure that anything that could pick up and fly away is put down. I think we see regularly in Wellington, when there's large winds up there, that people's trampolines end up about four properties away."
"Motorists will need to be very careful on low-lying coastal routes because we expect water will be going across some of them when the tide is at its peak."
Wellington City Council spokesperson Richard MacLean said trees were being blown down throughout the capital, including one on Moana Rd in Kelburn, a large pohutukawa across Para St in Miramar, and a large pine tree across Makara Rd between the school and Makara Beach.
MacLean said the wind was causing havoc in Newtown and the southern suburbs, where wheelie-bins were turning into "unguided missiles".
This article was first published on nzherald.co.nz and is republished here with permission.