Cyclone Gita: Live updates
Publish Date

Tuesday, 20 February 2018, 9:38AM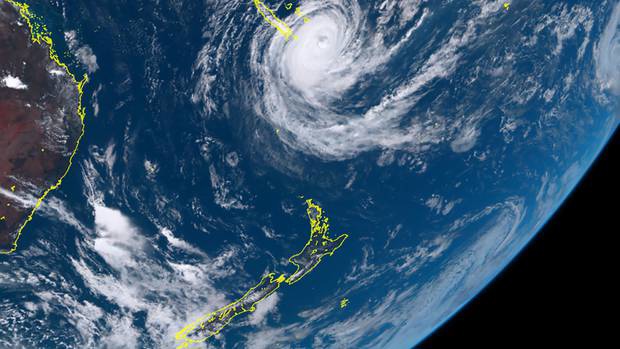 Cyclone Gita has barrelled into New Zealand, with seven provinces in a state of emergency: Christchurch, Buller District, Grey District, Selwyn, Westland, Tasman and Taranaki.
Massive slips have closed the Takaka Hill Rd and heavy seas have partially closed State Highway 1 north of Wellington.
Gita has now split into two storms - and continues to drench parts of the South Island, with up to 100mm of rain in the 24 hours to 2am
Seven provinces are under a state of emergency, about 100 tourists are trapped and hundreds of residents have been evacuated from homes after a night of chaos wreaked by ex-tropical Cyclone Gita.
Massive slips have closed the Takaka Hill Rd, where drone footage reveals huge damage to the state highway. And State Highway 1 north of Wellington, between Pukerua Bay and Paekakariki, is partially closed this morning after seas washed over the road.
Gita has now split into two "eyes", centred off both coasts of the South Island, and heavy rain continues to drench towns.
MetService said many weather stations in the Canterbury high country had recorded more than 100mm of rain in the 24 hours to 2am. Closer to the coast, Ashburton had been hit with 86mm of rain, Timaru 83mm and Christchurch 59mm.
As Gita made landfall in New Zealand roads around the country were closed, states of emergency were declared and people stranded on roofs and in cars amid rapidly rising floodwaters.
Overnight about 100 tourists were trapped in south Westland, despite warnings to stay away. They included 42 Chinese tourists forced to spend the night sleeping in two buses in Whataroa, south of Greymouth, after State Highway 6 was closed.
A further 25 people were taking refuge in the Whataroa Community Hall and more than 30 tourists were in community halls in Haast.
Westland Civil Defence spokesman Andy Thompson says plenty of people were still driving despite the warnings.
"Short of closing the roads early, there isn't any way we can avoid this. It's disappointing that some tour companies and tour plan bus companies continue to take scheduled services — but that's their choice."

The ex-tropical cyclone made landfall yesterday afternoon, leading to Christchurch, Buller, Grey District, Selwyn, Westland, Tasman and Taranaki all declaring states of emergency.
On top of the flooding, Gita brought wind gusts of up to 150km/h and swells of up to 7m.

Rural fire chief Colin Eggers makes his way through floodwater in Riwaka. Photo / Tim Cuff
A Fire and Emergency spokesman said crews were called to houses where roofs had been lifted off homes and other buildings, power lines downed, trees felled across roads and homes and businesses flooded. Many calls were in Taranaki, Tasman, and the West Coast.
Fire crews had also been called to a number of landslides, including one in Takaka, where a main road had since been completely closed off.
Late last evening heavy rain and/or strong wind warnings were in place for most of central New Zealand.
Greymouth resident Blair Buckman, 23, said the storm had ripped out fences and pulled off garage doors. He watched the roof of a house being peeled off like someone was opening a tin can.
Buller District Mayor Garry Howard said a state of emergency was put in place after the Red Cross and police aired concerns about the coastal town of Granity.

Waves crashing in at Rapahoe Bay, north of Greymouth. Photo / Jason Oxenham
At least six houses in the area were affected and residents were advised to evacuate. Others around the regions were also advised to evacuate as the storm hit.
In the Westland Council trees were down and buildings damaged. Hokitika Airport was closed for the night.
Gale-force winds hit south Westland from Harihari to Fox Glacier.
Yesterday 90 schools and 98 early-childhood centres in Nelson, Marlborough, West Coast, Canterbury, Wellington and Taranaki regions were closed, affecting more than 20,000 students and pre-schoolers.
Downed powerlines meant about 4000 people were without power in Tasman district.
Dangerous Kitchen owner Yvonne Dorne said she was closing her shop in Takaka before the usual dinner service because it had lost power to all of the restaurant.
"Everything has died. Staff have been calling family and friends, they are all saying the power is out too."

Former cyclone Gita's remnants hit Wellington yesterday. Photo / Marty Melville
Other residents had reported that the whole town was out of power.
Air New Zealand cancelled all flights in and out of Wellington and four other centres as Cyclone Gita began unleashing heavy winds and rain.
Gusts of more than 150km/h were recorded at the Rimutaka summit and 118km/h at Wellington Airport.
The downpour also led to record rainfalls, particularly in Kaikoura, where 194.4mm had fallen by about 7.40pm — four times more than the monthly normal, according to Niwa.
MetService expected the centre of the storm would pass over the upper South Island overnight with the worst of the weather fading by week's end.
This article was first published on nzherald.co.nz and is republished here with permission.