Kiwi diver opens up about his experience during the Thai cave rescue
Publish Date

Friday, 13 July 2018, 9:07AM
A Kiwi diver who spent seven hours in the Thai cave helping rescue four boys and their coach has spoken out about the tense rescue mission.
Ross Schnauer was part of the rescue team that extracted the last remaining boys from Tham Luang Nang Non cave on Monday, after the football team of 13 players and their coach had been stuck for 18 days.
The 43-year-old, who's originally from Auckland, has been living in Thailand for 15 years and works as a diver for offshore oil and gas construction all over the world.
"Basically I flew from Bangkok to Chiang Mai the next morning, went straight to the staging area at the cave and joined in with the Thai Navy Seals," he said.
Schnauer was grouped with three other rescuers who were stationed at the end of the dive zone and responsible for carrying the boys out of the cave.
"I was a little bit nervous, I have got to be honest. The Navy Seals told us where we would be and what to expect," he said.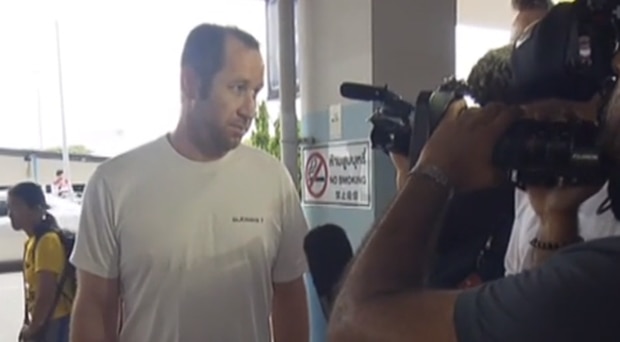 Kiwi diver Ross Schnauer joined the team for the final part of the cave rescue.
"The cavern we were in had a fairly high ceiling and was about the size of a basketball court, but obviously an odd shape. It was very rocky on both sides.
"It was dark so we all had head lamps, and there was one spotlight. It was slippery in parts and the deepest water we had to wade through was up to my chest."
Schnauer said they got about five minutes notice when a boy was near the cavern, and everybody would get tense in anticipation.
"When they came out of the water they were put on a stretcher, their oxygen was changed and the first aid guys checked them over.
"Then we stood in pairs ready to receive them and move them along in a chain.
"Once we had handed them on to the next person, then you had to climb over the rocks and get further ahead and join the chain further up."
Schnauer said everyone was focused on the task at hand and the particular role they had to play.
"The section of cave we were in was very rocky and unstable. You had to be very careful where you put your feet," he said.
READ MORE:
• Thai cave rescue: all 12 boys and coach rescued
"To be honest, I didn't notice anything about the boys, I was too worried about where to put my feet and making sure I had a tight grip of the stretcher. You did not want to drop them at this point."
Schnauer said once all the boys were out of the cave, everyone was very happy but also keen to get out of the cave.
"When the divers came out we were obviously congratulating them and helping them with their gear, but I think they just wanted to get out of there because they had been in there a long time. It was pretty impressive," he said.
"The teamwork that they went through to get them out is quite phenomenal really. It showed what people can do when they all collectively come up with a way to do something that has never been done before, and work together," he said.
"Everybody played a part and everybody volunteered to go there and help out. It was nice to be a part of that and I would do it again given the option.
"I am very happy for everyone involved – obviously the kids and the coach. They will tell their own story when they are ready, but they are very lucky. The effort of everybody to get them out is quite astounding."
This article was first published on nzherald.co.nz and is republished here with permission.