LATEST: Nelson fires could still be burning in March
Publish Date

Friday, 8 February 2019, 1:55PM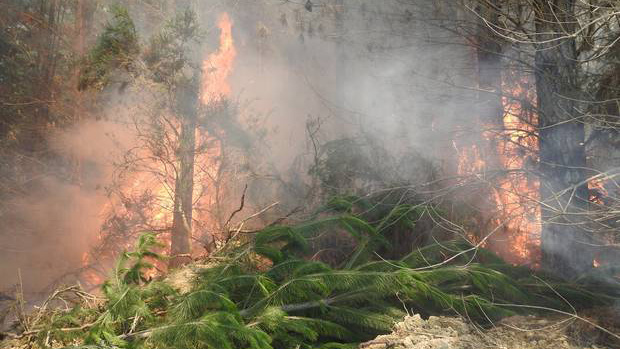 Wakefield residents who were forced to flee their homes to escape the fire risk could be allowed to return tonight, officials say.
But while weather conditions are slowing the fire from spreading the blaze is expected to still be burning in March.
Civil Defence controller Roger Ball said today that officials were now working on a re-entry plan for Wakefield, which meant some evacuees could be able to return to their homes tonight.
Re-entry plans are also being considered for other affected valleys in the fire zone.
A total ban remained in place prohibiting the use of machinery.

Fire and Emergency's John Sutton said the weather was co-operating and dew on the ground and higher humidity was restricting fuel for the fires. However, the fire was still not under control.
Last night was "probably one of the quietest nights" for firefighters, he said.
"I've got the feeling that we're starting to turn the corner."
However, Sutton said he expected firefighters would still be battling the blaze in March.
Tasman mayor Richard Kempthorne said this morning's updates were really heartening.


For evacuated residents, he said, as soon as you can be back you will.
"It's very encouraging a return is also being considered for the valleys in the fire zone."
Offers of help to fight the fire had been received from overseas and people "from Northland to Southland" were coming to help.
Today is day seven of the devastating forest fires south of Nelson, and for the around 3000 people forced to leave their homes because of the danger posed by the 2300ha fire, it's yet another day of challenges.
Another day of displacement as they seek shelter and support away from their homes and community, another day of uncertainty as those fighting the fires continue to battle to protect homes, another day of waiting to find out when they might again sleep in their own beds.

In an Aniseed Valley paddock, Terry Coleman is among Wakefield residents forced to find shelter elsewhere. He's lucky - the 61-year-old and his partner, Lynn Wilson, own a self-contained caravan.
But the couple's home isn't far from the fire, and they're worried.
"Hopefully the landowner will let us stay here as long as it takes till we can get back home. If we've got a home to go to."
Coleman has his dogs and cat with him, but left two chooks and a rooster at a makeshift animal nursery being run by the Ministry of Primary Industries, the SPCA and animal charity HUHA at Richmond Showgrounds.
A firefighter's dog is also among the roughly 700 animals, including quail, chickens, dogs, cats and pigs, at the nursery.
Authorities also said donations to help those affected by the fires can be made to the Mayoral Relief Fund, through the Tasman District Council website www.tasman.govt.nz.
This article was first published on nzherald.co.nz and is republished here with permission.