Live updates: Auckland's wild weather brings "hurricane-force" winds and leaves thousands without power
Publish Date

Wednesday, 11 April 2018, 10:00AM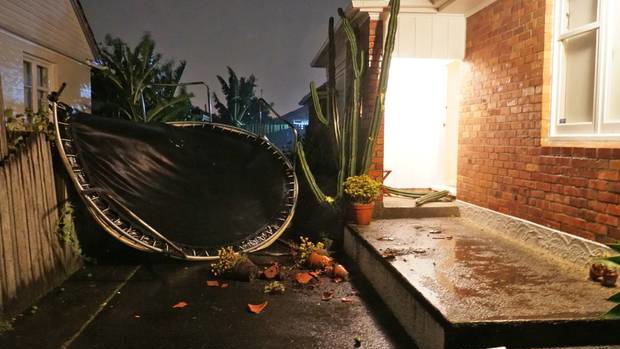 Auckland is assessing the destruction after 140km/h winds battered the city, bringing trees crashing onto homes and roads and knocking down power poles.
More than 100,000 homes and businesses have lost power.
MetService lead forecaster Michael Martens said "hurricane-force" winds reached 140km/h in Auckland City, but the top gust recorded was 213km/h at Manukau Heads.
Flights were grounded at Auckland Airport yesterday, where winds of 90km/h were recorded and gusts reached up to 120km/h.
Fire and Emergency was inundated, taking 1600 calls across the country overnight.
The outage reporting service on Vector's website and app was overloaded last night, and some people have been unable to report power cuts. At least 100,000 properties have no power this morning.
A tree fell on a car in New North Rd in Morningside, trapping a woman. She was taken to hospital with moderate injuries.
The deep low arrived in Auckland yesterday afternoon after dumping snow in the South Island, and bringing thunderstorms and destructive tornadoes to Taranaki.
Martens said the winds had abated a bit, but were still about 80-100km/h this morning.
Such strong winds were "unusual" for Auckland, which was why they were so damaging.
"If those gusts were in Wellington it would not be such a problem. But that is not a normal experience for Auckland, which was why there was so much damage to trees and houses."

Storm damage in Auckland. A woman was trapped in her car in Kingsland New North Road. Photo / Dean Purcell
There was about 15-35mm of rain recorded across Auckland in the past 18 hours.
It was also one of the coldest mornings Auckland has experienced this year, down to 9C.
Auckland Transport is advising people to only travel if essential.
NZTA says 127 traffic lights are out across the city, including the signal lights on motorway on-ramps.
Several roads have been closed, and there are delays on some rail lines.
Ferry services were halted yesterday but they are back up and running this morning.
Auckland Airport is warning of cancellations and delays, with one flight from Melbourne delayed by almost two hours.
Fire and Emergency's Daniel Nicholson says emergency services are busy and people need to be patient.
"We have received approximately 1600 triple-one calls and we're currently working through a backlog of incidents around Auckland."
Aucklanders should stay inside and stay home from work if they can, he said.
"People will need to be vigilant on the roads in the morning, due to a lot of debris down, trees down.
"If they don't need to travel, they shouldn't travel."
Hobsonsville's Jason Robinson was inspecting his car for damage when he heard a "loud groaning noise" and turned around to see a building about four storeys high slowly being blown over.
"It was like a slow creaking sound."
The structure was a base for a building firm that constructed apartments and homes.
"It is a size of a small warehouse and it just came crashing down.
"It's like a twisted wreck."

The scaffolding that came down in Hobsonville Point last night. Photo / Jason Robinson
Fire and Emergency New Zealand received dozens of calls about trees toppling onto roads, power lines and homes in the Auckland region yesterday.
Its Northern Communication Centre dealt with more than 170 calls in Auckland and the wider Upper North Island area because of strong winds.
"Most of the calls are about trees that have fallen down, or roofing coming off. A tree has fallen through the roof of a house in Stanley Pt, and another has fallen through the roof of a home in Birkdale," a spokesperson said.
Two trees toppled onto a house in Massey and a tree took out power lines on West Coast Rd in Waiatarua. Parts of Coromandel are reportedly flooded.
Herald readers have described fierce gusts making windows flex and lights flicker and dramatic lightning strikes brought the dark sky to brilliant life.
Gary Singh told the Herald his family of five sat in the dark with a torch after losing power in their Papatoetoe home. They were sitting on a bed listening to the wild weather outside.
"It's quite scary. The winds are quite strong."
He had tried ringing Vector but was told they were only taking emergency calls because of call volumes.
An Auckland Airport spokeswoman said the main runway had been closed because of debris and all flights diverted.
A Mt Roskill resident said his house was damaged when his neighbour's trampoline flew into his property.
"It sounded like a cannon firing then it flew around and finally lodged itself on the driveway. Crazy evening with lightning, power surges and bang! No one is hurt. Stay safe."
Kingsland resident, Stuart Sonman-Lund said the power was out in his house, where sounds of sirens could be heard in the distance.
The winds were hitting the house so hard it felt like an earthquake, he said.
Other parts of the country are feeling the drop in temperatures as snow is forecast down to 700m in Gisborne and Hawke's Bay today.
The South Island is now clear of warnings but rain will continue north of Banks Peninsula and Kaikoura.
Winds were also very strong in the Marlborough Sounds and Wellington.
"They will continue to buffet through the day and ease from tomorrow."
A widespread drop in temperatures is accompanying the storm, which swept up the country yesterday, leaving a trail of destruction.
A twister swept through National Park yesterday morning, where it ripped off roofs, downed trees and demolished a house.
Power has now been restored, after wild weather cut the region off the grid.
However, police and fire crews remained on the ground in the central North Island assisting those affected by heavy rain and winds.
Eight houses were damaged by yesterday's tornado in Rahotu, Taranaki, three severely.
People who need help can go to Rahotu School.
About 12,000 houses are without power across South Taranaki.
Ripped-off roofs and downed trees and powerlines left by the storm have served another dramatic reminder that tornadoes can strike New Zealand - and hard.
But they're still very uncommon: on average, about seven to 10 moderate to strong tornados are reported each year.
Because they're extremely localised, the damage they cause is very confined to the tornado itself, although the violent winds can fling debris hundreds of metres.
Ferries are also cancelled from Northcote Pt wharf, which is closed until further notice.
Western train line services are starting and ending at Henderson, and replacement buses are in service.
The Pukekohe to Papakura shuttle is not operating, but replaced by buses.
All other services are operating but there may be delays and power may be out at some stations.
An assessment of the rail network is under way and updates will be provided.
Police and fire crews are helping those affected by heavy rain and winds in the central North Island and on the West Coast of the South Island, where roads are flooded and trees and power lines have been brought down.
SH6 is closed between Ross and Franz Josef Glacier because of downed trees at Pukekura.
Police are unaware of weather-related injuries.
Motorists are asked to follow the directions of emergency services and roading contractors around local road closures.
Non-essential travel should be delayed and motorists are being asked to take extra care.
MetService lead forecaster Michael Martens said there would be no respite tomorrow, as a new system arrives in the South Island from the west.
"It will spread more rain across the country, with potentially heavy falls and there may be snow to 800m above sea level."
The rain will spread onto the North Island from tomorrow afternoon, with strong southwesterlies.
Looking ahead to the weekend there may be some brief periods of respite, before another front arrives late Friday and into Saturday.
"This too may bring heavy rain to the North Island," Martens said.
"We are looking at a pretty unsettled period."
This article was first published on nzherald.co.nz and is republished here with permission.