Prime Minister Jacinda Ardern meets the Queen in 'warm' exchange
Publish Date

Friday, 20 April 2018, 8:00AM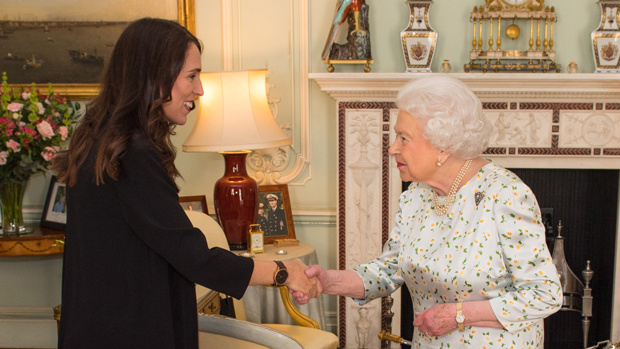 Prime Minister Jacinda Ardern has met the Queen at Buckingham Palace and has been chosen to deliver the toast at a state banquet packed with royalty and other leaders in Buckingham Palace.
Ardern and partner Clarke Gayford met the Queen in her sitting room at the palace early this morning.


Photo / Getty
She said rubbing shoulders with royalty had not changed her views on republicanism, but it was not something that she intended to pursue while she is Prime Minister.
"And also my particular views do not change the respect that I have for Her Majesty and for her family and for the work that they've done for New Zealand. I think you can hold both views, and I do."
Ardern said they had mostly discussed New Zealand, such as the recovery from the earthquakes.


Photo / Getty
She would not divulge further details - including whether they had discussed raising children in such positions - because it was against protocol.
"It's fair to say though that even before I went into that conversation that was something that was on my mind. Here was a remarkable leader who has conducted her life in the full view of the public and that has included her children. And there's something to be admired in that."
She gifted the Queen food items from New Zealand as well as a personal gift - a photo of the Queen on her tour of New Zealand in 1953 which was taken by a 14-year-old who was now in her 70s and had sent it into Ardern.


Photo / Getty
Ardern was one of only four leaders at the Commonwealth Heads of Government Meeting to be granted an audience with the Queen.
She will also attend a banquet at which Ardern will deliver a toast to the Commonwealth.
She is expected to wear a korowai to that dinner and will end her toast with a Maori proverb: "what is the most important thing: he tangata, he tangata, he tangata." (It is people, it is people, it is people.)
It followed her first meeting with the Queen.
Ghana has been chosen to toast the Queen at the banquet which about 16 members of the Royal family will attend as well as more than 50 leaders and their partners.
Earlier at the formal opening of the Chogm the Queen had put in a plea for leaders to allow Prince Charles to succeed her as head of the Commonwealth when he becomes King.


Photo / Getty
Leaders are due to decide on that role at the retreat tomorrow because there are no rules which specify who the Head of Commonwealth should be.
That had prompted some to suggest it should be abandoned altogether, become an elected position or rotated around the member states rather than simply pass on to the next monarch. It is a largely symbolic role but the Queen has held it since 1947 when she was 21.
Addressing the leaders, the Queen said she remembered the day she took on the role.


Photo / Getty
"It remains a great pleasure and honour to serve you as Head of the Commonwealth and to observe with pride and satisfaction that this is a flourishing network.
"It is my sincere wish that the Commonwealth will continue to offer stability and continuity for future generations and will decide that one day the Prince of Wales should carry on the important work started by my father in 1949."
Ardern has said New Zealand will support it passing on to the monarchs.


Photo / Getty
It is likely to be the Queen's last attendance at a Chogm as she hands over travel to Charles.
The Queen began by saying that after years of visiting other countries for the summit "it is a pleasure this time to welcome you to my own home".
This article was first published on NZ Herald and is republished here with permission.