Severe weather causes evacuations and road closures in Hawke's Bay
Publish Date

Thursday, 8 March 2018, 11:57AM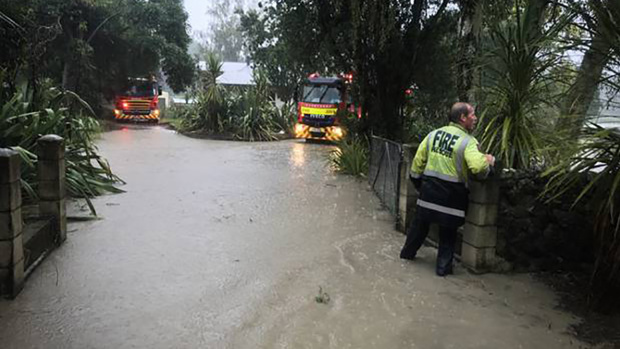 State Highway 5 between Napier and Taupo closed for the foreseeable future
Properties evacuated, including students from Hukarere Girls College
About 20 people have been evacuated from the Eskdale Holiday Park
Eskdale area north of Napier has been hit hard with severe surface flooding
More heavy rain are expected until around midnight tonight
Heavy rain has closed a number of roads around Hawke's Bay, including the Napier-Taupo road, as a severe weather hits the region.
The Eastern District Police this morning said State Highway 5 between Napier and Taupo would be closed for the foreseeable future due to surface flooding.
NZTA have announced Makahu Road is closed, and slips have closed Glengarry Road and Waipunga Road.
Motorists are advised to use alternative routes.

Surface flooding has closed SH5, as the Eskdale River threatens to break its banks. Photo / Paul Taylor
A number of Hawke's Bay Fire services have been called out to the Eskdale area north of Napier, and Rissington, to the east of Napier, where a number of properties have been flooded, a Hastings Fire spokesman said.
A number of people have self-evacuated from both these areas, and Patoka his morning.
The Eskdale area north of Napier has been hit hard with severe surface flooding, with the Eskdale river close to breaking its banks, and water run off from the surrounding hills.
A Hawke's Bay Regional Council spokesman said water levels for the Esk River are the highest since 2010.
A number of properties have been evacuated, including students from Hukarere Girls College.
Eskdale Holiday Park owner Daniel Gale said they had spent the morning evacuating around 20 people from their river side site.
"It's worse than Bola, and we were here for Bola. It's still bucketing down and the camp is under water basically.
"We got everything out and all the people out, getting the people out was the main thing."
Mr Gale said they knew rain was on the way, but did not realise how extreme it would be until their river alarm went off about 6.30am, and the flooding started.
"There isn't much we can do now, I just hope it doesn't get higher."
He said they would have to start rebuilding next week, redoing all the grounds, and perhaps working on the water supplies, sewage pumps, and electrical lines.
Hawke's Bay Today understands a temporary shelter is being set up for local residents.
This morning around 60 Havelock North Intermediate students were evacuated from a school camp at Weka Point, Rissington.
Principal Julia Beaumont said the two classes had gone up to the camp yesterday, but it was decided this morning to bring them back to school.
"It was worsening so we decided to bring back the kids. They've come back to school now, and some have gone home because they're really tired, they had a rough night."
She said the school had not realized how severe the weather was going to be when the students left yesterday.

Surface flooding has hit the area north of Napier hard. Photo / Paul Taylor
A Hawke's Bay Regional Council spokesman said the flood alarms were triggered this morning with levels around 670 m3/s and rising. He said orange alert level was exceeded, but not quite at red alert yet.
"Heavy rain continues in the catchment, so river levels may rise further. The rainfall has crossed over into the Tutaekuri catchment.
"Some properties have flooded around the Mangaone River on Puketitiri Road, so we're looking at the Tutaekuri River trigger levels for warnings."
Hawke's Bay Civil Defence Emergency Management Group Group Manager/Controller Ian Macdonald said more heavy downpours in isolated areas in rural Hawke's Bay are expected and residents, particularly in the Esk Valley area, are being asked to prepare for evacuation in case that becomes necessary.
If people have safety concern they need to ring 111. For the most up-to-date information they should follow the HB Civil Defence Emergency Management Group Facebook page.
This morning a severe weather warning was issued by Metservice for the region as a complex low pressure system over the North Island moves to the east on Friday.
There is also a heavy rain warning, with concern streams and rivers are rising rapidly.
Surface flooding and slips are also possible and driving conditions may be hazardous.
Periods of heavy rain are expected until around midnight tonight. In addition to rain that has already fallen, expect another 70 to 90mm of rain to accumulate during this period, especially about the hills and ranges.
Peak intensities possibly 20 to 30mm per hour and thunderstorms possible in Hawkes Bay from Hastings southwards.
Hastings District Council is working on clearing roads with focus on keeping key routes clear; at this stage Taihape Rd and Glengarry Rd. Roading teams are inspecting routes across the region to update the situation.
NZTA is working on SH5, which is closed. Please contact that agency for the latest information.
Roads affected by surface flooding and slips in the region are:

Glengarry Road – ROAD CLOSED – slips

Waipunga Raod – ROAD CLOSED – slips

Taihape Road. ROAD OPEN but small slips throughout

Heays Access Road – ROAD OPEN but slips reported

Makahu Road – ROAD CLOSED

Seafield Road – Road closed - fallen tree
This article was first published on nzherald.co.nz and is republished here with permission.