Jono and Ben are returning to TV with brand new reality series 'Dog Almighty'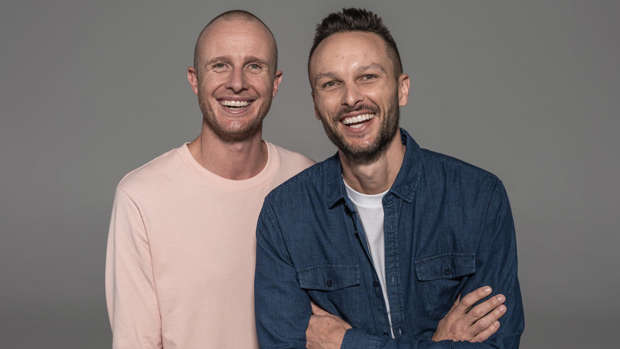 Jono and Ben are set to hit Kiwi television screens once again, and this time they're bringing along some adorable puppy pals.
For many years the boys entertained New Zealanders on their self-titled TV show - and now they're taking on their first-ever roles at TVNZ as hosts of the brand new reality TV series, Dog Almighty.
"We're super excited to be working with TVNZ and be back on Kiwis screens, and what better way to kick off our return to the telly than with this epic series," says Ben.
Produced by Great Southern Television, Dog Almighty will see Jono and Ben on the hunt for Aotearoa's most exceptional pooch, who will take home not only the coveted golden dog bowl but $100,000 cash.
Vying for the prize, gifted dogs and their owners will undertake a series of entertaining challenges, testing their agility, obedience and X-Factor in purpose-built Doggydome.
"We can't wait to see what these amazing dogs can do," Jono says of Dog Almighty. "The best Ben's beloved dog Beau can do is eat food off the dining room table when no one is around and steal the bloke next door's underwear from the washing line!"
"Many thought our TV career had gone to the dogs, now, it literally has!" adds Ben. 
TVNZ's Director of Content Cate Slater says she is "thrilled" for the hilarious duo start this new TV role.
"We've been fans of Jono and Ben for many years, and we're thrilled to be able to announce they are officially joining the TVNZ family," she says. "It will be fantastic to see them bring their comedic prowess to a big, loud and unique reality show like Dog Almighty."
Jono and Ben - who last week set an unofficial world record on The Hits radio station for the longest ever Zoom call of 23 hours and 39 minutes - will be joining their furry friends for this new challenge on TVNZ 2 later this year.
Follow Jono and Ben on Facebook and Instagram for all the latest laughs and check out their new podcast on iHeartRadio.