LISTEN: Why you should watch '13 Reasons Why' with your teens
Publish Date

Thursday, 20 April 2017, 10:57AM
Netflix's latest hard-hitting TV series, 13 Reasons Why, has not only struck a chord with viewers but has caused controversy and debate among professionals.
Why? The show's subject matter: teen suicide. 
The series - based on the novel by Jay Asher - follows the story of Hannah, a 17-year-old girl who takes her own life, leaving behind cassette tapes for classmates she feels contributed to her pain.
In New Zealand and Australia 13 Reasons Why has been slammed by health foundations who say the US drama should have never been released and that it is 'glamorising' suicide.
Shaun Robinson, the chief executive of Mental Health Foundation New Zealand says that although he has not seen the series himself, he is worried the show is portraying suicide in a harmful way.
"It is important to discuss suicide," he told Fairfax, "but what is not appropriate is to raise these issues in a context of a lack of hope and to present the notion of someone taking their own life as inevitable or heroic or something to be emulated".
However, mental health campaigner and suicide prevention advocate Mike King holds the opposite view of many health professionals, saying the show is "one of the greatest suicide prevention tools out there at the moment."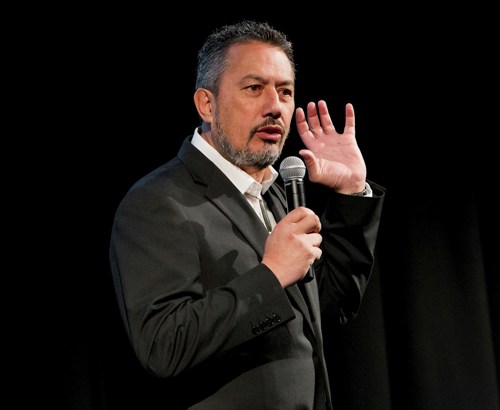 Photo / HBT
King explains that although 13 Reasons Why is graphic, it is "far from glamorous" and in fact, gives many young watchers "cause and pause to think about their actions".
"It's time we changed the conversation from 'should we or shouldn't we' to 'how should we talk about this subject'", King tells Sarah, Sam and Toni.
"Our kids are already talking about it, our kids are already discussing it among their friends, so what I'm suggesting is shouldn't we all just get involved in the conversation? Shouldn't we all make it okay to talk about these things."
King also urged parents to get alongside their teenagers and have these difficult but important conversations with them.
"If you're a parent, please sit down and watch it with your children.
"Our kids are more intelligent than you give them credit for. Watch the show with them and then ask how they felt, talk to them about their feelings and their opinions. It's uncomfortable, but we need to put our kids in uncomfortable situations and be there with them."
Where to get help:
• Lifeline: 0800 543 354 (available 24/7)
• Suicide Crisis Helpline: 0508 828 865 (0508 TAUTOKO) (available 24/7)
• Youthline: 0800 376 633
• Kidsline: 0800 543 754 (available 24/7)
• Whatsup: 0800 942 8787 (Mon-Fri 1pm to 10pm. Sat-Sun 3pm-10pm)
• Depression helpline: 0800 111 757 (available 24/7)
• Rainbow Youth: (09) 376 4155
• Samaritans 0800 726 666
• If it is an emergency and you feel like you or someone else is at risk, call 111.