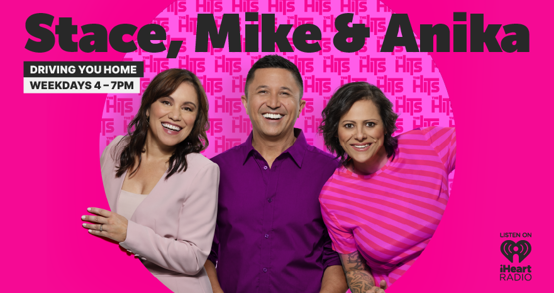 What happens when you put three of New Zealand's most big-hearted Kiwis in the same studio?
The Hits' long-time host Stacey Morrison is now hanging out in the afternoon with her old mate Mike Puru and the amazing Anika Moa. Now you get to share the big laughs, great stories and amazing Kiwi experiences that connect with audiences across New Zealand.
Mike is one of New Zealand's most recognised and respected radio personalities. Despite having worked in the industry for over two decades, there is one thing he was yet to tick-off his broadcasting 'bucket list' until he joined The Hits. 
As for Anika, she says she's "looking forward to finally making a decent regular living instead of just being a bum musician, bum TV entertainer, model and all those other things I do in my spare time," said the 39-year-old, adding it will be the hardest she has worked in her life, "ever". Anika's quirky and fearless humour has made her a popular radio and TV personality.
Stace, Mike & Anika, big fun and a big heart every afternoon, from 3pm to 7pm only on The Hits.
Follow Stacey, Mike and Anika on Facebook and Instagram and listen to their podcast on iHeartRadio: