Meghan Markle comes under major fire after breaking royal protocol by commenting on abortion debate
Publish Date

Saturday, 19 May 2018, 11:03PM
Meghan Markle has found herself in hot water after she reportedly expressed a political opinion on her first foreign visit as a royal.
According to a tweet - which has since been deleted - by a female senator in Dublin, the 36-year-old former actress apparently agreed with Ireland's recent referendum result in favour of legalising abortion.
READ MORE:
•This is why the Queen was absent from Prince Louis' christening
• Princess Charlotte's cheeky comment to photographers will put a smile on your face!

The politician, Catherine Noone, originally wrote: "A pleasure to meet Prince Harry and the Duchess of Sussex at the British Ambassador's Residence this evening. The Duchess and I had a chat about the recent referendum result - she watched with interest and was pleased to see the result."
The post quickly blew up, with royal watchers pointing out that the Duchess of Sussex had clearly broken royal protocol by expressing a political opinion.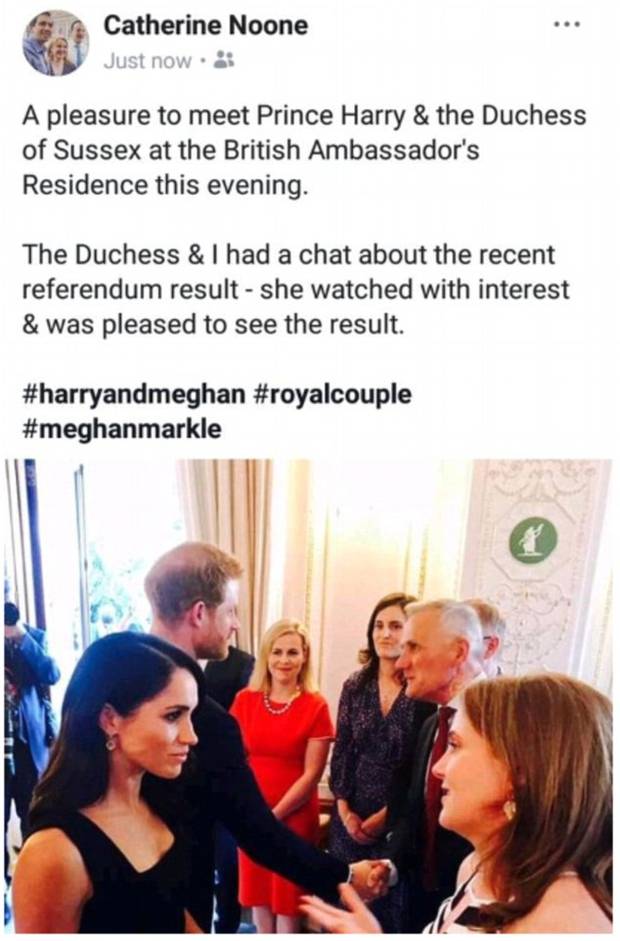 Since the 17th Century, a convention has seen the British monarchy be banned from commenting on politics or involving themselves political issues.
However, that hasn't stopped opinions coming out from time to time.
Following the backlash, Noone later wrote: "I clarified - it was a very benign chat, she expressed no political opinion. She was interested and charming. It was misleading so I deleted it."
Ireland had one of the most restrictive abortion regimes in the world with the Eighth Amendment prohibiting abortion in all circumstances, except if there was a real and substantial risk to the life of a mother, including by suicide.
In May the country voted by more than 66 per cent to overturn the ban following an impassioned public debate.