The baker who made Harry and Meghan's $96,000 wedding cake shares stunning 'last' photos
Publish Date

Tuesday, 22 May 2018, 11:00AM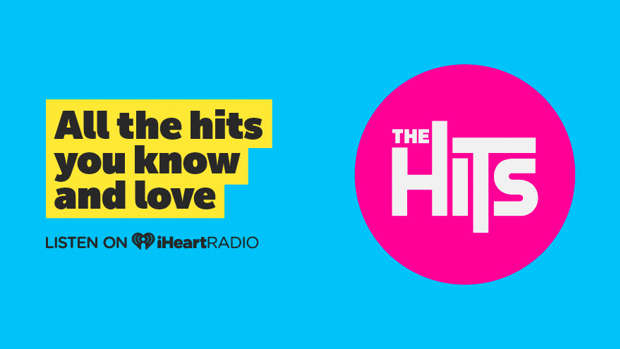 It will be business as normal for royal baker Claire Ptak this week after creating the new Duke and Duchess of Sussex's spectacular lemon and elderflower wedding cake.
But the Californian, who owns Violet Cakes Bakery in Hackney, east London, couldn't resist sharing one last snap of her magnificent creation with her Instagram followers as a truly memorable royal wedding weekend drew to a close on Sunday night, the Daily Mail reports.
Showing the public the previously unseen back of the cake, Ms Ptak, whose cake is reported to have cost up to £50,000 (NZ$96,650) to make, said her "heart is still full" from the joyful occasion at St George's Chapel, Windsor Castle, on May 19.
Ptak also confirmed for the first time that the non-edible fresh peonies - a favourite flower of Meghan's - that were used to decorate the cake were removed before Prince Harry, Meghan and their 600 guests got to try a slice.
On her "last" photo of the stunning cake, which featured layers of different sizes on gilt gold plinths lent to Ms Ptak by the Royal family for the occasion, she wrote: "My heart is still full today from all of the incredible loving energy in the air for the couple yesterday. Feeling so uplifted."
The snap is the first time the public has seen the back of the cake, which features fewer foliage and fresh flowers than the front.
The cake was made using 200 Amalfi lemons, 500 eggs and 10 bottles of elderflower cordial made at the Queen's Sandringham estate in Norfolk.  
It was decorated with three kinds of fresh peonies, which are not edible. 
However, Ms Ptak revealed in an Instagram post that these were removed before the cake was served to the guests at the reception.
She wrote: "While we always decorate with fresh flowers we always remove them before serving. They are purely for decoration."
Calling it an "incredible honour" to display the cake on gilt stands from the Royal family's collection on a photo of one tier of the cake, she added: "A close-up detail of one tier of the cake. This tall tier was my favourite of the three because it was so simple."
Claire and a team of five from her bakery made the cake and were dressed in pastel yellow aprons made by English heritage brand SunSpel Clothing.
On a post of her baking team wearing the aprons, Ms Ptak wrote: "When you're baking something special, always dress to impress. Thank you @sunspelclothing for capturing our essence."
The cake is believed to have cost £80 (NZ$154) per slice, with the three-part layered centrepiece rumoured to have cost up to £50,000 to make. 
The Palace said in a tweet that the "light sponge" had been "uniquely formulated" for the royal couple.  
Bride book founder Hamish Shepherd said the confection reflected modern wedding day trends "perfectly".  
He also said the relatively low-key bake hinted at a relaxed party ahead for guests.  
"The icing is subtle and smooth (much like the material of Meghan's dress), and has only been decorated by fresh flowers, the same that were part of Meghan's bouquet and the Chapel's decoration," he said.
"This adds a unity and consistency that only the best weddings master, and hint at the more relaxed, loose and natural nature of the less formal celebrations to follow."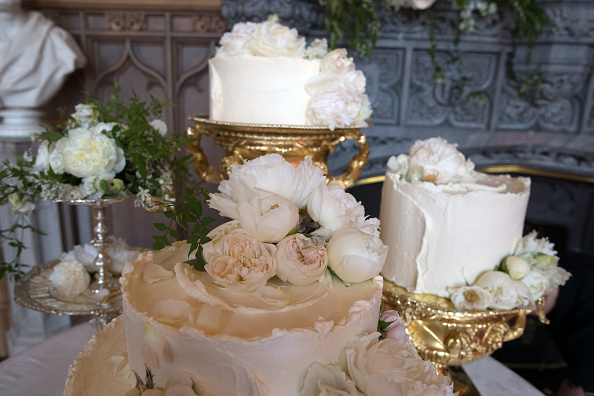 Photo / Getty
Baker Claire had said ahead of the big reveal that it would be a non-traditional presentation.  
The baker, who owns the trendy Violet Bakery in East London, worked with her team of six bakers full time for five days in the large kitchens of Buckingham Palace.
Slices of the cake were served to the 600 guests at the lunchtime reception in St George's Hall.
Her recipe uses 200 Amalfi lemons, 10 bottles of Sandringham Elderflower Cordial made using elderflower from the Queen's Sandringham estate, 20kg (44lb) of butter, 20kg (44lb) of flour, 20kg (44lb) of sugar and 500 organic eggs from Suffolk.
Claire said in the days before the wedding: "It's a lemon sponge - a special sponge that I developed just for the couple, and we drizzle the layers with elderflower cordial from the Sandringham estate so it's really lovely and as local as you can get.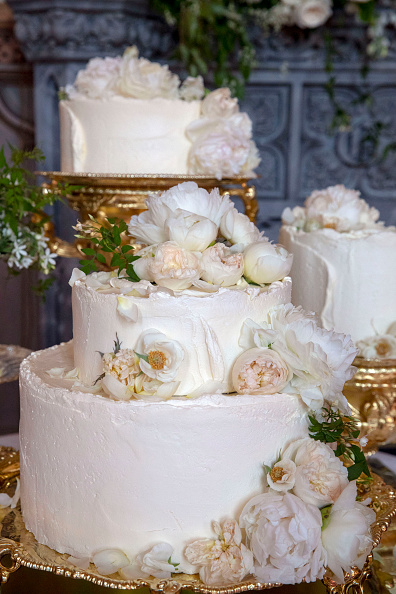 Photo / Getty
"We have a lemon curd made from Amalfi lemons which to me have the most delicious flavour. And then we've got elderflower swiss meringue buttercream."
She described the flavour of the cake as being a balance of sweet and tart, combined with "ethereal" elderflower.
"The buttercream is sweet and the lemon curd is very tart so you get a very lovely thing happening when you take a bite, which is to get all of these flavours and sensations perfectly balanced," she added.
The cake, which is decorated on the outside with a white, elderflower swiss meringue buttercream, is made of layered lemon sponge, drizzled with an elderflower syrup. The layers are sandwiched with buttercream and lemon curd.
Three types of Meghan's favourite peonies - Madame Claude, Bowl of Cream, and the aptly titled Duchess - in shades of white and cream decorate the cakes, along with four different white and cream roses - Patience, Purity, Jeanne Moreau and Princess Miyuki.
The flowers will be removed before guests tuck into the cake, but the slices will be served with edible rose petals.
The baker said Harry and Meghan loved the lemon and elderflower cake after trying a number of different samples.
She said: "The elderflower is so quintessentially British to me as a Californian. It's of this moment. It's May so they're just opening this week.
"It's a kind of an ethereal, floral flavour which I think is very special, especially for a wedding."
Claire previously admitted she hadn't made a backup cake in case of a disaster, saying: "It's cake. It can't go that wrong. We have enough cake and we don't want to be wasteful. Anything that is left over, we were going to donate to charity."
The chef had to call in some of her former workers to have enough staff to work on the cake and keep her bakery open.
This article was first published on Daily Mail and is republished here with permission.