The Kiwi celebrity weddings of 2017 that absolutely won our hearts
Publish Date

Friday, 8 December 2017, 12:00PM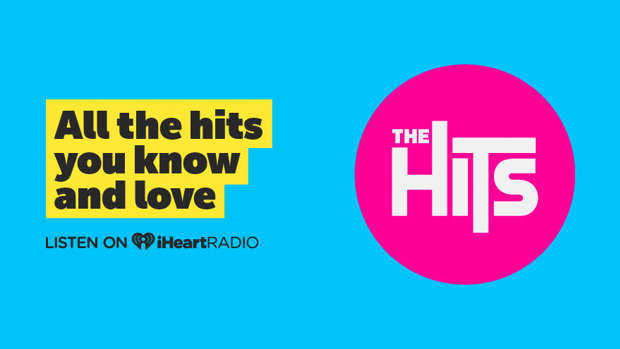 As the nation rushes headlong into a new wedding season, we look back at the Kiwi stars who walked down the aisle this year.
Richie McCaw and Gemma Flynn
The year of celebrity weddings got off to the most spectacular starts in January when former All Blacks captain Richie McCaw wed his long-time love, Gemma Flynn.
The ceremony at The Olive Grove in Wanaka was shrouded in secrecy on the big day, so those of us who misplaced our invitations had to make do with reading about the finer details in the magazines.
Flynn wore a custom silk satin dress from Anna Schimmel, which she paired with Valentino heels and diamond earrings from Sutcliffe Jewellery – and the ensemble certainly had the desired impact.
"When I saw [Gemma] for the first time, I choked up a wee bit," McCaw told Woman's Day on his wedding day. "I was blown away. I knew I would be, but more so than I thought. She was beautiful."
McCaw didn't look too shabby himself, choosing to wear a black Ermenegildo Zegna suit for the occasion.
The newlyweds hopped on a helicopter after exchanging their vows and flew to the top of the Crown Range for photos before re-joining their wedding celebrations.
A week later, the couple kicked off their central Otago honeymoon with a 20km run. Because, sure, why not?
Anika Moa and Natasha Utting
February saw singer Anika Moa and TV journalist/producer Natasha Utting walking down the aisle in a beautiful wedding at Auckland's Bethells Beach Cottages. 
Both brides wore white – Moa in a dress by Miss Crabb, Utting in a Tanya Carlson gown – and exchanged Meadowlark-designed wedding rings in a ceremony headed by celebrant Jaquie Brown.
Guests included Madeleine Sami, Boh Runga and Teuila Blakely, as well as the couple's blended family of three sons, twins Barry and Taane from Moa's previous relationship, and Soren.
According to Woman's Day, Moa and Utting drew a laugh from guests with their wedding vows.
Utting told her wife: "Fans may get your signature on their bosom, but I have you tattooed on my heart. I love you."
Meanwhile, Moa promised to "make sweet passionate love to you once a month ... if that" and said she'd "love you like a crazy psycho".
Reflecting on her wedding, Moa later said: "I hope we love with a fierceness like gang members who protect their own patch. I hope Natasha makes us rich with her sex books. I hope I make us rich with a hit song. But most of all, I hope she loves me forever and unconditionally."
Awwww.
Makere Bradnam and Kurt Gibbons
Another star getting hitched in February was Makere Bradnam.
The TV presenter wed her baby daddy, property developer Kurt Gibbons, at Wanaka's Rippon Vineyard – but not before battling the elements on her way down the aisle.
Clad in a beautiful custom gown from Hera Couture, Bradnam struggled with her full-length veil in gale-force winds as she made her way down a steep hill during the wedding march.
"I'll get down there eventually!" she shouted to her guests, according to Woman's Day. And she did, going on to celebrate her newly wedded bliss with family and friends, including rugby stars Beauden Barrett, Cory Jane, Israel Dagg and Victor Vito (who was also one of the groomsmen).
Nadine Chalmers-Ross and Dan Higgins
Broadcaster Nadine Chalmers-Ross chose to wed partner Dan Higgins in Northland's Mahinepua Bay in March and was rewarded with a picture perfect day gatecrashed by a pod of playful dolphins.
Some of the wedding guests decided to jump into the ocean, suits and all, to play with the dolphins, but the bride – quite wisely – opted to stay on dry land and preserve her stunning Jane Yeh-designed dress.
Amongst the guests on the big day were Chalmers-Ross' former TVNZ colleagues, Peter Williams, Sam Wallace and Toni Street. The couple's dog, a giant German Shepherd by the name of Rico, was also in attendance, dressed in his own bespoke suit jacket.
And according to Woman's Day, Chalmers-Ross made sure her feelings were crystal clear in her wedding vows. 
After promising to love and honour her husband, she added: "I'm not promising to obey you - you know that's not the kind of woman you're marrying."
Matthew Ridge and Chloe Alexa Liggins
Former rugby league star and TV presenter Matthew Ridge put a ring on it for a second time in May, when he wed French-born caterer Chloe Alexa Liggins.
The wedding was a simple, intimate affair with just 30 guests, including Ridge's children to former wife Sally, Jaime and Boston. 
Following the ceremony at a Ponsonby house, guests moved on to the reception at Mantells on the Water.
The couple have since announced they are expecting their first child together (Ridge's fourth).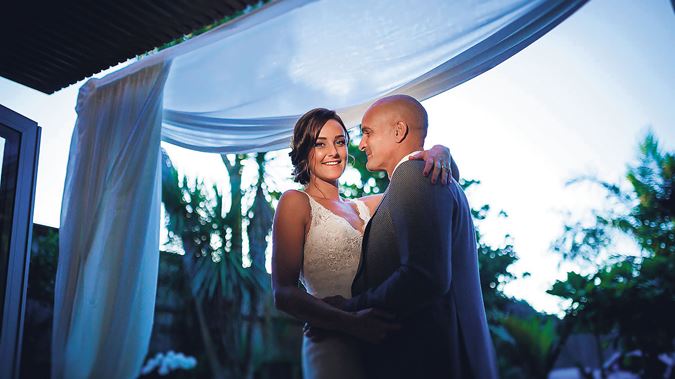 Photo / Aleksandr Happy
Married at First Sight...
Of course, some of the year's most high profile weddings were the ones that took place on camera for Married at First Sight NZ.
The couples may not have been famous prior to their wedding day, but they quickly became a hot topic around the nation's watercoolers.
Five of the six couples married on the show are now waiting out the requisite two years before they can get a divorce, but we still live in hope that smitten husband and wife Brett Renall and Angel Fulljames last the distance.
Because if they don't, we'll know love is well and truly dead.
Maria Tutaia and Israel Folau
Silver Fern Maria Tutaia and Australian rugby star Israel Folau tied the knot last month in a private ceremony in Kangaroo Valley, before flying off to the most magnificent of honeymoons in the Maldives.
The long-distance lovebirds wed on the same day Australians voted overwhelmingly to legalise gay marriage, an issue Folau has strongly opposed.
In sharing a photo from her big day on Instagram, Tutaia said she and her new husband were "two imperfect people who refuse to give up on one another".
With a flurry of celebs getting engaged in the last few months, we have plenty more celebrity weddings to look forward to in 2018 and beyond.
Shortland Street star and Flava broadcaster Pua Magasiva proposed to his partner of one year, Lizz Sadler, in October; former Bachelorette Kate Cameron also got engaged in October when her baby daddy Brandon Hiini got down on one knee; and actress Anna Hutchison said "yes" when Hollywood agent Mike Gillespie popped the question in Paris in September. 
Meanwhile, ZM breakfast host Megan Sellers is getting ready to marry her long-time partner, singer Andrew Papas - and then there's the upcoming wedding of our original Bachelor NZ couple, Art Green and Matilda Rice. Move over, Prince Harry and Meghan Markle!
This article was first published on Spy and is republished here with permission.