Arnott's teases a bizarre new range of Shapes-scented perfumes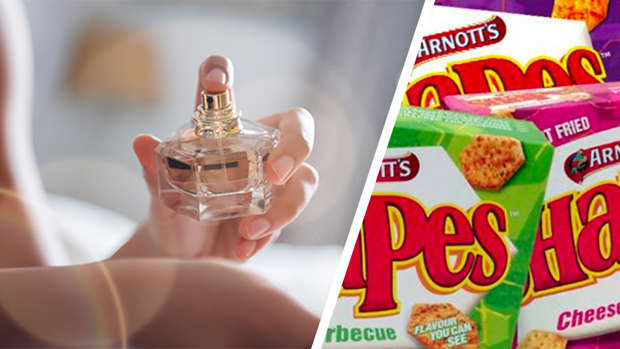 Shapes are known for being the biscuits with containing tasty bursts of staple savoury flavours that everyone loves.
But now Arnott's who make the delightful crackers has teased a brand new - and rather bizarre - new Shape-scented perfume.
Taking to Instagram, Arnott's shared a series of prototype bottles of what their perfumes would look like, with each bottle matching with the Shape flavour that inspired them.
"Roses are red, violets are blue. If you were a box of Shapes I'd pick you," the company wrote along with the pictures which showed off Cheese & Bacon, Chicken Crimpy and Pizza perfumes.
"Treat your loved one to the true aroma of love with Shapes Perfume.
"Carefully bottled to capture the essence each crunch brings to you, we guarantee there is no substitute for the love you'll both share with Shapes Perfume."
Shapes fans, while a little confused indicated that they "would buy" the savoury scented-product.
"Oh my god ... you better believe I would drown myself in that," one fan joked.
"You can smell Chicken Crimpys all day now," another excited fan said.
Another added: "Where can I buy this???"
However, not everyone was on board.
"I feel a bit ill," one person wrote after seeing the news.
However, we're not 100 per cent sure if we'll see these new Shape scents hitting shelves any time soon … especially since the company likes to have a bit of fun with weird product ideas.
Earlier this year Arnott's joked about making Coriander Shapes - much to the delight and disgust of cracker lovers.