Bride replaces wedding bouquets with adorable rescue puppies
Publish Date

Wednesday, 27 September 2017, 1:30PM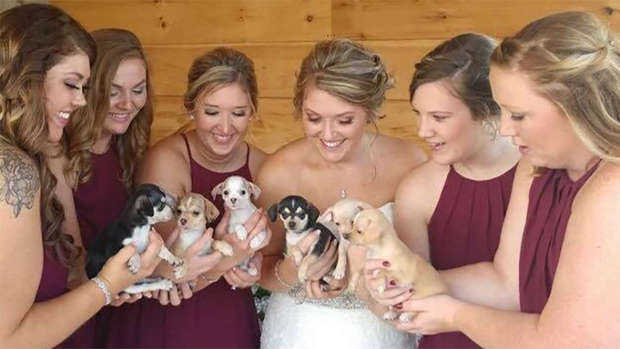 A dog lover found an adorable way to integrate puppies into her wedding.
Samantha Clark, 23, always imagined her wedding day would involve puppies, according to the Daily Mail.
The American bride borrowed six adorable puppies from a local shelter for the wedding party to carry instead of bouquets.
The Chiweenie puppies - which is a chihuahua and dachshund mix - were all less than eight weeks old. 
Other than the cuteness overload in photographs from the ceremony, Samantha wanted to try and raise awareness for rescue dogs and AHeinz57 Pet Rescue and Transport.
"We are obviously huge animal lovers, but especially dog lovers," Samantha told DailyMail. "So far we have not adopted a wedding puppy ... but I'm working on it."
Samantha credits Pinterest with the idea.
"I think I saw a picture once of bridesmaids holding puppies and from there everything just fell into place," she said.
"It was always a dream of mine to have puppies at my wedding, but never thought it would actually come true!"
When asked if there were any potty accidents at the wedding Samantha said the dogs were "perfect". 
"They were the most well-behaved puppies I've ever interacted with," she said. "It was like they knew they were there for business."
When the bridesmaids made their way down the aisle with the little dogs in hand, everyone gasped and "loved it".
Samantha's husband Kendel Clark sceptical of the idea at first.
"He expected the puppies to be bigger, louder and assumed they would squirm and cry," she said. "But they did none of that.
"At some point in the night, he told me it went perfectly, better than he could have imagined."
Samantha said Kendel "knew what he was getting himself into" when he married her.
In his vow, he said: "... and that all baby animals need you as their mother." 
The shelter shared photos of Samantha and her bridesmaids holding the puppies on Facebook. The post went viral and has over 3,000 interactions and more than 300 shares as of midday Tuesday.
Samantha did not expect to get so much attention.
"This is all really incredible," she said. "My goal with this was to raise awareness to the rescue and get some pups adopted."
This article was first published on Daily Mail and is republished here with permission.