Cinema ushers keep finding cucumbers at 'Fifty Shades Darker' showings
Publish Date

Friday, 24 February 2017, 11:15AM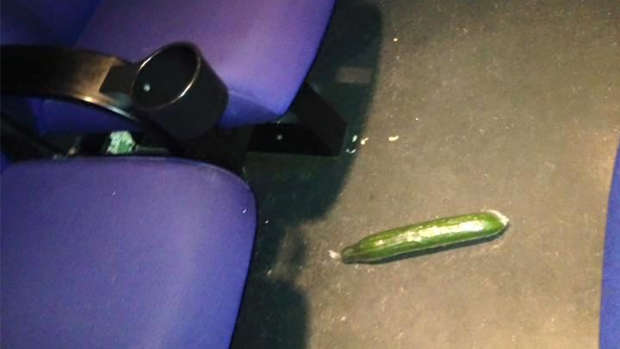 You usually can't find any healthy treats at the cinema, but the newly released Fifty Shades Darker movie seems to have filmgoers sneaking in cucumbers.
Workers at cinemas around the world have been posting photos of cucumbers mysteriously left on theater floors.
We all know what the insinuation is, and it's pretty grim...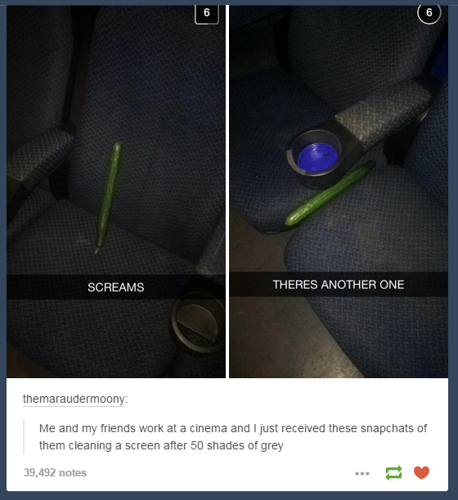 But seriously, there's no way this is real, right?
It turns out Aussie 17-year-old Taryn, has come forward to admit that she was the owner of the original vege - but she wasn't up to what you think!
"My friends walked down to Woolworths to grab some snacks for the movie, saw the cucumbers for $2 each," she explained to the KIIS FM radio hosts Kyle and Jackie O, adding that it was an opportunity they couldn't miss.
"[We thought we're] going to take it, do whatever we like during the movie and then leave it there afterwards as a surprise," she said.
Unclear about what "do whatever we like during the movie" meant, Taryn reassured listeners she and her mates "didn't harm the cucumber in any way. We took good care of it."
She then confessed her and her cheeky pals "just wanted to play a prank on the usher."
So it seems others have probably just jumped on the bandwagon... we hope!