Girlfriend's bizarre list of strict rules for boyfriend goes viral
Publish Date

Monday, 8 October 2018, 3:24PM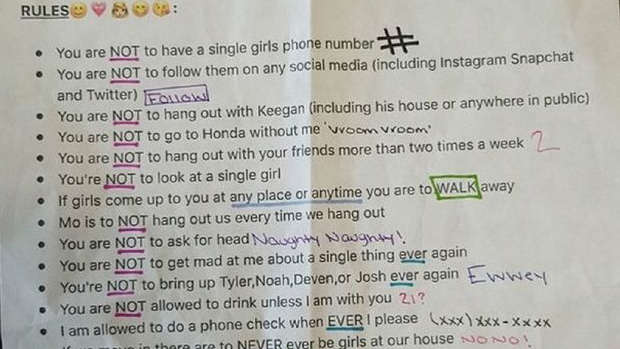 Leaving a list of "rules" for a child, babysitter or petsitter is pretty standard.
However, writing a list of rules for your significant other is not.
But one unidentified woman did just that ... and it has left the internet in stitches.
The girlfriend decided to give her partner a list of 22 strict rules to remind him of all the things he was and wasn't allowed to do.
The typed up document was discovered by Twitter user @kkeyes96 when a man traded in his car and accidentally left it inside.
Inevitably, the list was posted to Twitter, alongside the caption: "Some poor guy traded in his car and he had a contract from his girlfriend in it."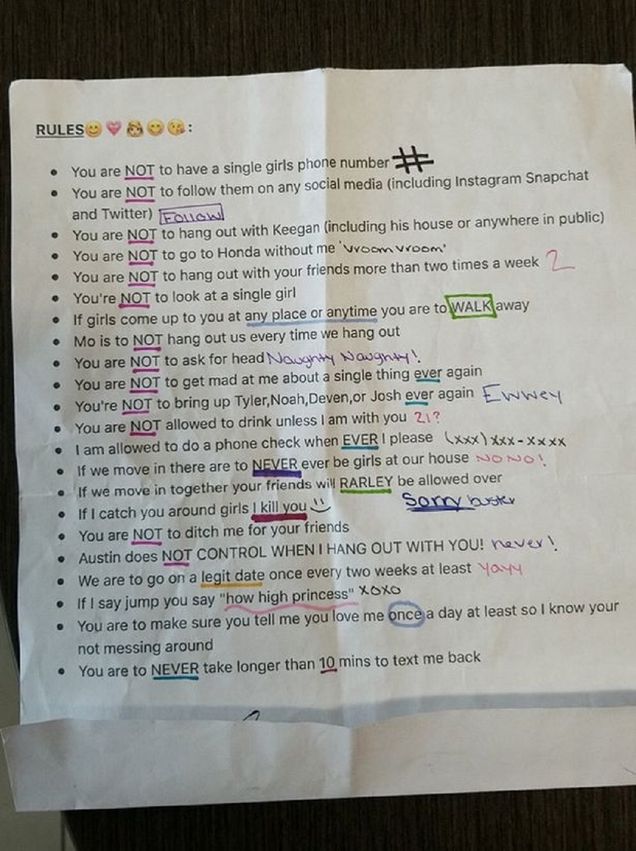 Some of the rules on the list include: "You are not to have a single girl's phone number" and "I am allowed to do a phone check when EVER I please."
She then bans her boyfriend's friendship with someone named 'Keegan,' later adding to the list that he can't even "look" at another girl.
She also tells her partner he has to text her back within 10 minutes of receiving a text from her.
READ MORE:
• Boyfriend writes outrageous set of rules for girlfriend's weekend away
• Six rules you have to follow if you marry a Royal
And social media users were amused while horrified at the same time.
One user wrote: "Yikes, get a new girlfriend."
The post has since been deleted.