Going to Six60 at Western Springs Stadium? Here's everything you need to know ...
Publish Date

Friday, 22 February 2019, 4:00PM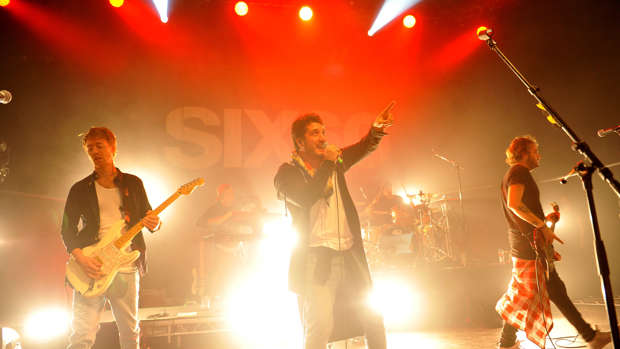 In less than 24 hours, the first New Zealand band to headline a sold-out concert at the iconic Western Springs Stadium will be taking to the stage!
For just ONE night only, Six60 will be rocking out to a crowd of 50,000 fans at the historic event.
So, if you're going to the concert, here's everything you need to know …
Key information:
Fans are reminded that Ticketmaster is the only authorised ticket seller for this concert. No responsibility is accepted for tickets purchased from unauthorised sellers or resellers and invalid tickets may be refused entry.
Say hello to the cameras when you spot them. A documentary about the band will be filmed on Saturday so your attendance to this gig could very well be recorded for posterity.
At the event, should you ever feel like your safety is at risk, or if you require any type of assistance, text the word ASSIST followed by a space and then your message and location to 260. Alternatively, you can ask for "Angela" at the bars, food stalls or any venue staff. They'll know you're asking for help discreetly and they'll know how to assist you.
Set times:
4:00pm: Gates Open
5:00pm: ILLBaz
5:30pm: SWIDT
6:20pm: Sons of Zion
7:20pm: Drax Project
8:50pm: SIX60
11:00pm: Event Finishes
Getting to Western Springs:
Free Public Transport:
Travel to SIX60 on the Northern Express (NX 1 & 2), direct special event buses and trains is included with your event ticket. Remember to keep your ticket for the ride home.
Travel included with your ticket on NX1 and NX2 services starts at 4pm, and runs until end of service.

Special event buses to the venue will run from 4:30pm to 7:30pm. These buses depart from outside 4 Mayoral Drive, CBD (behind Aotea Centre). Special event buses from the venue will run 1 hour post event or until the crowd is cleared. These buses will depart from a temporary bus stop on Williamson Ave, Grey Lynn (between Great North Rd and Dryden St).
Drop Off & Pick Up Point:
There will be a dedicated five-minute drop-off and pick up zone located between St Lukes Road and Motions Road.
Mobility Parking:
Onsite mobility parking is strictly available for patrons who hold a valid mobility parking permit. Please register for mobility parking by emailing your permit number to [email protected] You will also be required to present your mobility permit to traffic control staff on the day for access - no permit, no entry.
READ MORE:
• QUIZ: Which Vengaboys song are you?
• Remember '90s band Aqua? Well they're coming to New Zealand and they haven't changed a bit!
Road Closures:
The following road closures will be in place on the event day:
Stadium Rd: from 7am on Thurs 21 Feb until 1am on Sun 24 Feb.
Bullock Track: from 7am on Sat 23 Feb until 1am on Sun 24 Feb
West View Rd: from midday on Sat 23 Feb until 1am on Sun 24 Feb
Old Mill Rd (between Francis St and Sherwood Ave): from 2pm on Sat 23 Feb until 1am on Sun 24 Feb.
Great North Rd (St Lukes Rd to Bond St): from 7pm Sat 23 Feb until 1am on Sun 24 Feb.
Tuarangi Rd: Residents Access Only via Mountain View Rd from 8pm Sat 23 Feb until 1am on Sun 24 Feb.
Williamson Ave (Northland St to Great North Rd): from 8pm Sat 23 Feb until 1am on Sun 24 Feb.
Surrey Cres (Prime Rd to Great North Rd): from 8pm Sat 23 Feb until 1am on Sun 24 Feb
Prohibited items:
Concert-goers will be required to present any clothing, bags and other carried items for searching, including being subject to a pat down and/or a scanner search before entering the stadium. If you refuse to present any of the requested items for searching, you will be denied entry.
The following are all prohibited items:
Bags larger than A3 (400mm x 300mm x 300mm)
Video cameras and recording devices (this does not include mobile phones)
Photographic devices with a lens larger than a standard watch face (not exceeding 4cm in diameter)
Prams and strollers
Selfie sticks, Go Pros, Drones
Banners with poles
iPads or Tablets
Cans or glass of any kind
Strictly NO alcohol or illicit drugs
Branded or commercial food and drinks, including takeaways
Metal utensils and containers, cutlery, etc.
Chilly bins / Coolers
Dangerous goods
Fireworks, flares, lasers or flash lights
Knives, Tasers, Mace, Chains, Spurs or Studded Jewellery
Offensive weapons including, but not limited to, any object that may be used as a projectile such as glow sticks, balls, containers, etc.
Air horns and loud hailers
Umbrellas or other sun/rain shelters
Furniture chairs or stools
Skateboards, rollerblades, bicycles or scooters
Unauthorised promotional, marketing or advertising.
Animals (excluding service dogs such as guide dogs and police or emergency service dogs)
Please note that prohibited items will be confiscated and will not be returned. If in doubt, leave it at home.
Concert-goers are welcome to bring small quantities of home prepared food and water bottles up to 750ml - please note lid will be discarded on entry to the stadium.
Western Springs is a smoke-free venue.