Man takes risky pre-proposal photos of girlfriend with engagement ring without her knowing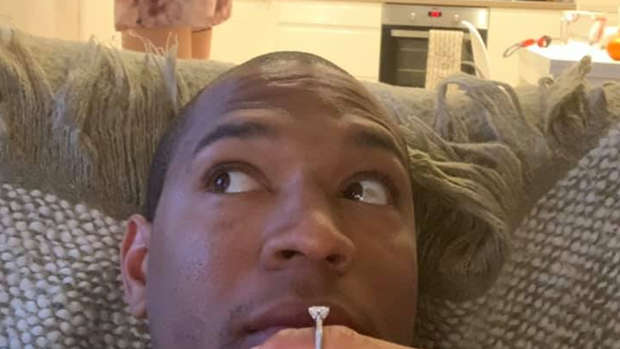 When it comes to proposals, you often think of someone secretly planning on how they will pop the question and being extra careful about where they hide the ring before they do.
But one fiancé-to-be has gone viral for the risks he took while trying to find the right "moment" to propose to his girlfriend – including taking photos of her with the diamond ring without her even knowing!
Sharing his story to Facebook, Edi Okoro explained that as he was a "spontaneous improviser" he kept the engagement ring he had bought on him at all times so he was ready to take a knee and ask his girlfriend Cally to marry him whenever the "moment" felt just right.
"Some plan a flash mob, a fancy meal, or even arrange a marry me a sign," Edi revealed on Facebook. "I couldn't do this because 'Edi doesn't plan' … I'm a spontaneous improviser!"
"This made it even more of a challenge because Cally knows this, and the moment I planned a holiday or meal she would have clocked on to what I was about to do.
"Because of this I took the ring with me everywhere hoping the 'moment' would arise in line with my spontaneous style," he continued.
"After a month or so of waiting for the right moment, I was sitting on the sofa admiring 'my precious' (yes I became very attached to this ring by this point) Cally almost caught me staring at the ring, and it hit me! All these missed opportunities mixed in with the thought - Cally doesn't know I have the ring! I should just start documenting these moments!"
And that's when things started to "escalate".
Eddie snapped photos of Cally with the ring while they were out shopping, while she was on her phone, while they were on holiday and even while she was asleep.
"This escalated quickly into trying to get as many photos of Cally with the ring without her knowing! Yes, she had no idea what I was doing in these photos!" he continued.
"The idea was to take as many photos, in more daring scenarios, until I found the perfect moment to propose, or until I got caught, at which point I would propose!"
However, despite his "daring" and risky feats, Cally never noticed the ring – even when the diamond ring was left in her jewellery tray for two days.
In fact, she didn't notice it right up until the "moment" came and Edi finally popped the question.
In a follow-up post of the newly engaged couple smiling, Edi wrote: "So we did end up getting engaged, and no I didn't get caught … but how I did it is a story for another time."
How sweet!