Mother horrified to find a COIN in her chocolate chip cookie
Publish Date

Friday, 4 August 2017, 8:27AM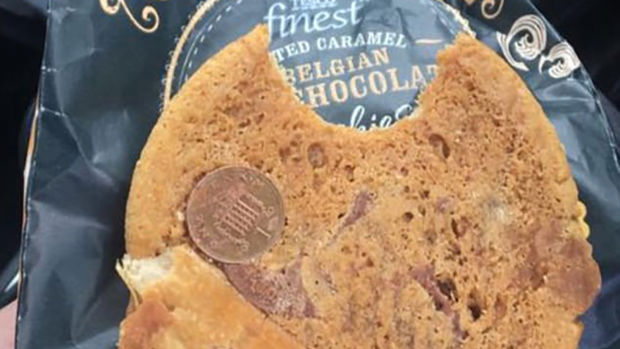 A mother-of-one claimed she got a nasty surprise when she opened a packet of chocolate chip cookies only to discover that one of the treats had a penny stuck onto it. 
Rian Lecouteur, a police officer from Worcester, said she made the discovery after buying a packet of Finest Salted Caramel and Milk Chocolate Cookies from Tesco, the reports.
She complained to Britain's largest supermarket chain on its Facebook page, where fellow shoppers shared her outrage at the shocking unwanted extra she said she had found.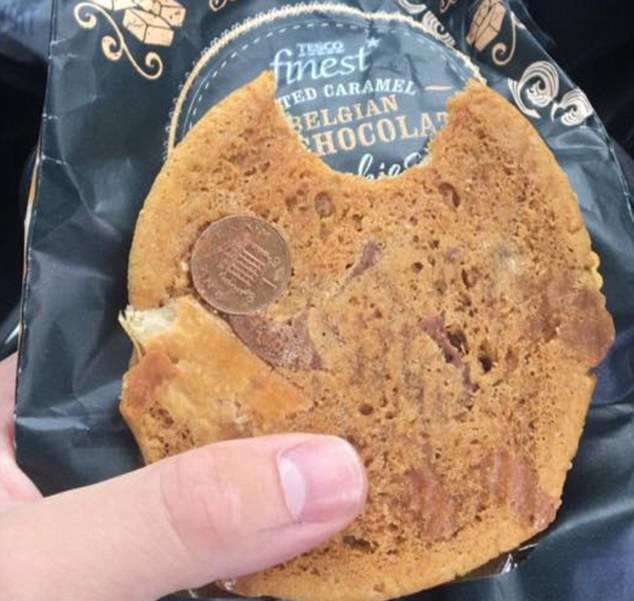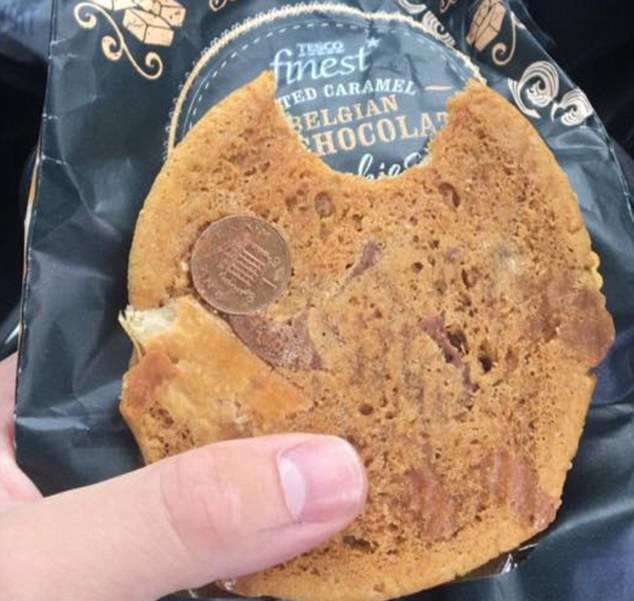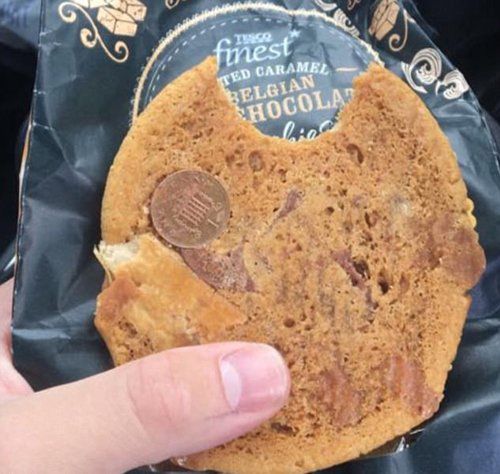 Photo / Facebook
The penny was said to be was stuck on the underside of one of Rian's cookies from an unknown Tesco branch.
Luckily, it appeared that she spotted the copper-coloured coin after only taking one bite out of the cookie.
But she angrily wrote on Tesco's Facebook page about the unwanted discovery she had made to warn that it was thankful a child had not picked up the offending treat.
She wrote: "Not happy that this was in my cookie!! Imagine if this was a small child!!!"

Photo / Facebook
Several of her fellow shoppers shared her outrage.
Debbie Mayneord commented to express her shock that her child had eaten those particular cookies before, while Susan Pugh said: "That's terrible!!"
Annette Roberts added: "Oh my god that's appalling."
Not all her fellow customers were sympathetic though.
One cheeky Facebook user, Richard Andrews, poked fun at the way Rian had worded her complaint.
"A small child would not fit in a cookie," he joked.
A Tesco customer care worker responded quickly to Rian's complaint and told her to take the offending treat back to the store so that staff members at her local supermarket could "deal" with the issue. 
A Tesco spokesman told the Daily Mail: "Our in store bakery colleagues are comprehensively trained in food safety so we were surprised to hear about this. We are investigating and we'll update Ms Lecouter with our findings."
This article was first published on Daily Mail and is republished here with permission.