Mother whose husband divorced five days after she was paralysed finds new love with personal trainer
Publish Date

Saturday, 26 August 2017, 6:42PM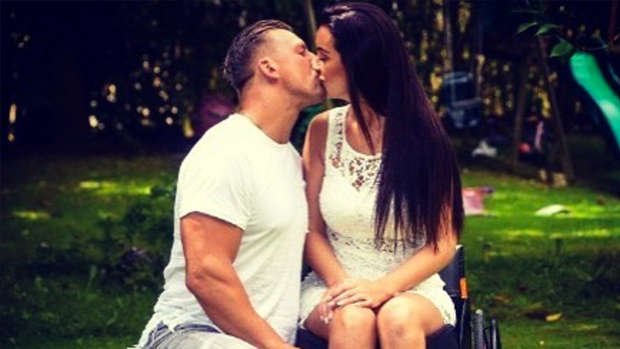 A paralysed mother-of-four who claims she was dumped by her husband while still on her hospital bed five days after suffering a stroke has found love with the personal trainer who helped her walk again.
Riona Kelly, 37, was left paralysed from her waist down following a spinal stroke and was told she would never regain the use of her legs.
And Ms Kelly claims her husband, who she had been with for 14 years, asked for a divorce after her March 2015 stroke.
Ms Kelly, from Halifax, West Yorkshire, defied doctors' predictions - and is now looking forward to her life with 35-year-old former rugby league player Keith Mason.
Her husband Richard insists he told her he wanted a divorce the morning before the stroke and he visited her in the hospital while also looking after the children.
The mother of Leighanra, 16, Caleb, 11, Izabela, nine and Logan, five, took her first steps just eight weeks after the stroke and has found happiness with Keith, who has daughter Kalani, five, from a previous relationship.
Ms Kelly, who can now walk unaided around the house, uses her crutches to get about and only needs her wheelchair when travelling long distances.
Ms Kelly said: "After suffering a stroke not only did I have to deal with paralysis but I had to deal with losing my partner of 14 years.
"After he asked me for a divorce I was left completely alone.
"After five days in hospital I was told it would take me six months to a year to recover.
"At the time I felt like giving up, but I knew I had to be strong for my children and so when I finally took my first steps it felt amazing.
"I put a post on Facebook last January looking for a personal trainer to help me and some friends suggested that I get in touch with Keith.
"After our sessions Keith and I stayed in contact, he would ask me how I was getting on and our relationship blossomed from there.
"We have now been together for 11 months, the children really like him and I finally feel like I'm living the life I deserve."
In March 2015, Ms Kelly was rushed to hospital after suffering an extremely rare spinal stroke that left her paralysed from the waist down, the MailOnline reported.
She added: "I was at home one day with Logan, I can't remember exactly what happened but I fell down a complete flight of stairs and Logan had to call for help.
"After my husband left me in hospital, my friend, Sarah, became my next of kin, it was her and the children that supported me during my recovery.
"Looking back I was miserable in my marriage, but we had built a life together and had responsibilities.
"It was the time I needed my husband the most."
Ms Kelly was told that within six weeks she would be able to take her first steps, however six weeks came and went and Ms Kelly was still unable to move her legs.
She said: "It was at this point that doctors told me I would never walk again.
"I'd had a car accident 18 months previous and they said that could have caused problems in my spine.
"But other than that I was a fit and healthy woman and there was no other reason why this would happen.
"The first time I went out in a wheelchair I thought everyone was looking at me, I hated it and hated myself.
"If someone had given me the choice I would have ended my life, I didn't want to live anymore.
"But the other patients on the ward were amazing, I received so much support from them and they encouraged me to get out of bed every day."
After spending hours in physio, Ms Kelly miraculously took her first steps on the parallel bar - just two weeks after doctors assumed she would never walk again.
She added: "I was dragging my body and I had no feeling in my legs but I didn't care, I was walking and that's all that mattered.
"My consultant was very emotional, he couldn't believe I had done it with the help of a standing frame.
"Every day I built up my strength and after four months in hospital I was finally allowed to go home.
"It took me 25 minutes to get up 16 steps, and the same time to come back down again, but I was determined to do it for my children."
Ms Kelly has since completed two marathons with the help of her wheelchair and met personal trainer, and former professional rugby league footballer, Keith, in January last year.
Ms Kelly said: "Keith wanted to make a difference.
"But at the same time I found an affordable physio and so I left the personal trainer as it was too much for me.
"And then one day Keith asked me out for coffee and we picked up from where we left off.
"I just couldn't believe a gorgeous rugby player wanted to date a disabled woman like me.
"Keith says I inspire him, but he encourages me every day and understands and sees the pain that I am in.
"He has been amazing with me and the children and I love him more each and every day.
"I now only need my wheelchair to go long distances but my home hasn't been adapted so I try not use it.
"Looking back, going through what I did was the best thing to ever happen to me.
"I'm now back in the gym, and with Keith's help I'm getting better and stronger than ever.
"After my stroke I thought my life was over but it's only just beginning and has opened so many wonderful doors, I've signed up with Models of Diversity and have just landed my first TV commercial."
Ms Kelly's husband, Richard, said: "I told Riona I wanted a divorce the morning before her stroke, not whilst she was in hospital.
"Whilst she was in hospital I visited as much as I could of an evening, I had to take care of the children, look after the house and run a business.
"I lived in the house with Riona and the kids until last June before I eventually moved out, and we have now both moved on."
This article was first published dailymail.co.uk and in reproduced here with permission.