Newlyweds return home to find their house has been turned into a zoo
Publish Date

Friday, 7 July 2017, 11:43AM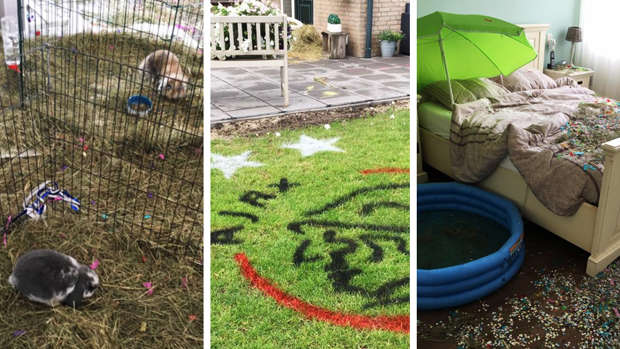 A newlywed couple returned to their home after getting married to find it had been turned into a zoo by their friends.
Rene and Marcelle van de Werken from Nederhemert, Holland, found hens and rabbits roaming around their house and garden and 15 bales of hay spread around inside.
Goldfish were swimming in their bath and confetti was spread around rooms throughout the property, according to the Daily Mail.
Yet despite finding the house in chaos, the couple insisted they could see the funny side of the practical joke.
They said: "If you always stand in front at these kinds of things, you should take into account that one day they will get one back at you.
"Of course we were shocked when we walked into the house, as this is ridiculous and sleeping at home was out of the question, as the entire bed was full of it.
"But the next day our friends came to help with the cleaning. It was a super day."
In the end, the couple had to clean the garden with a high-pressure hose.
Their friends had painted a logo of Dutch football club Ajax onto the grass to tease Rene - a big fan of their arch rivals Feyenoord.
The couple said: "Everything now is clean again and nothing was broken. We found good addresses for the animals and the rabbits we kept ourselves, our children are very happy with it."
Pictures of the "zoo" posted online by the couple were shared by hundreds of people in the Netherlands.
This article was first published on Daily Mail and is republished here with permission.