Revolting or romantic? Jeweller makes engagement rings out of human teeth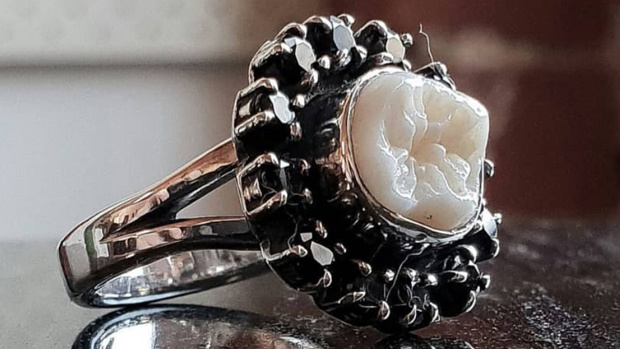 In 2019 many couples are moving away from traditional diamond engagement rings … but have these pieces of jewellery gone a little too far?
Melbourne jeweller, Jacqui – of Grave Metallum Jewellery – creates custom pieces of jewellery using teeth.
That's right, human teeth!
And the 27-year-old has even received a request to make a macabre engagement ring that includes people's chompers.
The American fiance-to-be asked that one of his own teeth be put in the ring – which cost $350 and took four weeks to make - that he would propose to his girlfriend with.
"They wanted us to use his tooth so she can always take a part of him with her everywhere," Jacqui told news.com.au. "They also have an interest in oddities."
"This was hand fabricated, the metal bent, cut, filled and soldered together," she said.
The wisdom tooth was used instead of a traditional diamond as the ring's centre stone and was surrounded with a halo of spinel, a dark coloured gemstone.
"They were over the moon about the ring when they finally received it," she added.
Jacqui also revealed that another couple decided to get matching teeth rings for their wedding day.
"Her ring had his tooth in it, and his, had her tooth inside," Jacqui said.
"They stood out from normal jobs as they wanted the full tooth, uncut."
The ring maker says that she enjoys the feedback she receives, whether it's a compliment or a criticism.
"Some people love it, some people hate it, but controversy helps you question your normal," she explained.
"I have had the joy of helping other people deal with their grief."
Take your Radio, Podcasts and Music with you