The cat that no one would even touch finds help
Publish Date

Thursday, 16 February 2017, 2:58PM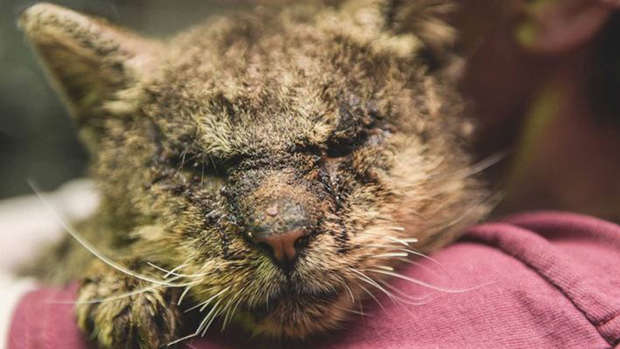 There are some cats in this world that people fall in love with the first time that they see them, the ones that look like big balls of lovable fluff, Valentino wasn't one of those cats.
Valentino has led an unfortunate life, one that has wound up with him living in a shelter, covered in hardened dirt and grime in his fur that forced his eyes closed, and suffering from sarcoptic mange.
No one would even go near the poor kitty as his mange was extremely contagious to both cats and humans alike. This was until Elaine Seamans visited the Baldwin Park animal shelter and was greeted with the tiniest meow and an extended paw.
She saw how Valentino was suffering and immediately picked him up, without any gloves, and gave him a hug.
She then contacted Toby Wineski from Leave No Paw Behind and arranged medical assistance for the cat.
He is now in the middle of medical procedures, and slowly recovering, you can follow his journey here: Leave No Paw Behind.