This US woman was kicked out of a pool complex because her swim suit would "Excite teenage boys"
Publish Date

Saturday, 24 June 2017, 12:52PM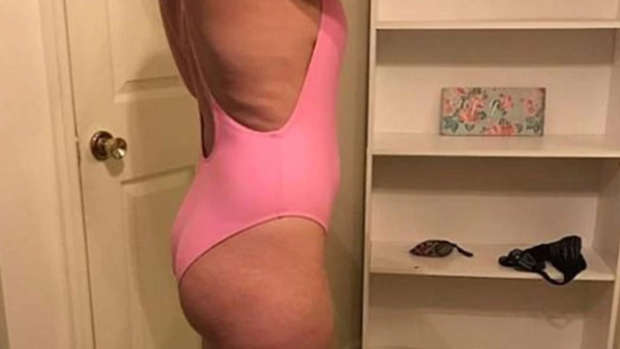 A distraught woman was ordered to get out of a public pool because she was too curvy and her swimsuit might "excite teen boys".
Tori Jenkins, who was swimming in a pool at her apartment in Knoxville, Tennessee, was then told to pose for photos in her one-piece to show how "inappropriate" it was, she claims.
Jenkins, 20, has garnered the sympathy of many who heard her story after her fiance Tyler Newman posted the story and pictures of his 'humiliated' girlfriend on Facebook.
'I'd just like to say on my own behalf that I'm really amazed by all of the overwhelming support I've received," Jenkins wrote on her Facebook page, after her story had been shared close to 18,000 times.
"Thank you all, you really don't know how much it means to me. It hasn't even been that long since it happened but I can tell you that I've felt really sh***y about myself since. Being distracted by friends and work and your wonderful comments have made this process a whole lot easier. "
Jenkins had been swimming at the pool at the Smoky Cross Apartments with five of her friends and her fiance for just three minutes when the leasing consultant said her "thong bathing suit" was inappropriate because she was in a "family environment", she told DailyMail.com.
The consultant then called Jenkins to her office and instructed her to look in a large mirror so she could see the problem herself, the 20-year-old said.
"I know what I look like, I bought this myself, it's not a thong," Jenkins responded.
According to Jenkins, the consultant told her the swimsuit would "excite" teenage boys and accused her of misunderstanding the situation because she didn't have children herself.
"There are a lot of teenage boys in this complex,' she said. 'You don't need to excite them."
The consultant then said Jenkins was more curvy than other women and needed to wear a normal bathing suit that "covers the whole butt".
Jenkins felt forced to say her butt was indeed "larger", which explained why her bathing suit - which she bought from Forever 21 - may have appeared as a thong while she walked.
The couple pay $300 fee, in addition to their monthly rent of almost $1000, to maintain the pool in the apartment, Newman notes in his viral post.
"I have never really witnessed sexual harassment and/or rape culture' until today,' he added.
"I've never seen my fiancée embarrassed to the point where she can't even look her best friends in the face.
"I've never seen her cry like she did in our apartment today. Never seen her want to be isolated like that.
"All because some ignorant a**holes think they can police the size and shape of her body."
Many on social media expressed their outrage at how Jenkins was treated and encouraged her to appreciate her body despite the consultant's critique.
Tara Mash said: "You look amazing! I'm so sorry people can be such a-holes! You didn't deserve anything that happened to you that day.
"I hope you won't let that awful woman's words change the way you view yourself or your body. Hugs to you!!"
While the feedback has been mainly positive, some on social media have posted negative comments about her body, so much so that Jenkins had to delete a picture that showed the front part of her suit.
"I took it down after reading so many hateful comments about my stomach and so many intensely explicit sexual comments,' she wrote in a post on Thursday.
"The entire point of this post is that no man or woman has the right to make me feel uncomfortable in my own skin. No right to police me or any other human."
But Jenkins has taken lessons from the unfortunate incident, rather than allowing it to bring her down.
"If you see something happening you feel is wrong, speak up,' she told DailyMail.com.
"And if it happens to you, keep your head high and only pay attention to the positivity in your life. Don't let anyone make you feel less than you're worth."