Twelve days 'til Christmas Cocktails: Classic Christmas Eggnog recipe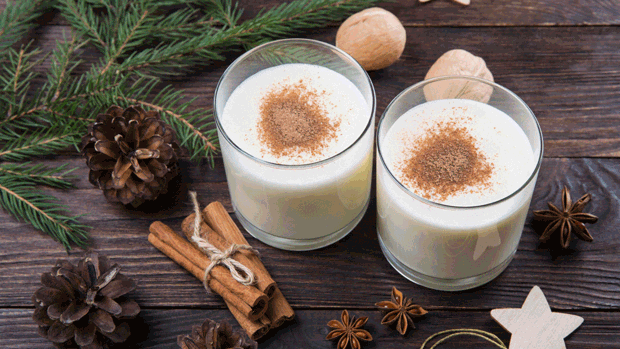 The festive season is officially upon us!
And what better way to celebrate than some delicious Christmas Cocktails!?
Introducing our 12 days 'til Christmas boozy advent calendar! Check back every day for a brand new holiday-themed tipple that you will definitely want to try for yourself, right up until the big day!
Try yesterday's Festive Cherry Gin Fizz!
Remember to drink responsibly! 
EGGNOG
Serves 4-6 
INGREDIENTS
2 cups milk
3 whole cloves
1/2 teaspoon cinnamon
1 1/2 teaspoon vanilla extract
6 egg yolks
3/4 cup sugar
1 1/4 cups spiced rum
2 cups cream
1/4 teaspoon ground nutmeg
METHOD
Combine the milk, cloves, cinnamon and 1/2 teaspoon of the vanilla extract in a medium saucepan. Slowly bring to a boil on a low setting, stirring often. Remove from heat.
In a large bowl, combine egg yolks and sugar, and beat until the mixture is light and fluffy.
Pour the hot milk mixture very slowly into the egg mix, whisking constantly. 
Transfer the mixture back into the saucepan and cook over a medium heat, stirring constantly for a few minutes or until thick and creamy. Don't let the mixture boil.
Strain to remove the cloves and leave to cool for about an hour.
After cooling, stir in the rum, cream, nutmeg and remaining 1 teaspoon of vanilla extract. Refrigerate overnight and enjoy!
If you want to use those left-over egg whites, why not try a pavlova, meringues or lemon meringue pie!