Twelve days 'til Christmas Cocktails: Mulled Wine or Cider recipe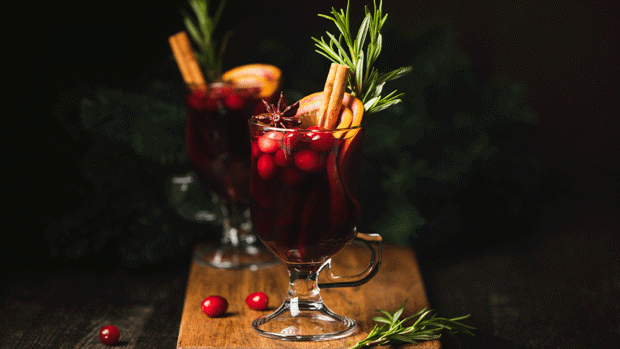 The festive season is officially upon us!
And what better way to celebrate than some delicious Christmas Cocktails!?
Introducing our 12 days 'til Christmas boozy advent calendar! Check back every day for a brand new holiday-themed tipple that you will definitely want to try for yourself, right up until the big day!
Try yesterday's Gingerbread Martini!
Remember to drink responsibly! 
MULLED WINE OR CIDER
This recipe is great for entertaining because it's easy, hands-off and can be easily scaled-up for a crowd.
Some 'purists' believe in only using high-quality wine or cider, but in our experience, it doesn't matter - you're adding so many other flavours as well as sugar so no one will notice if you've opted for the cheapest bottle or box or booze!
INGREDIENTS
Bottle of red wine or apple cider
Whole cloves
Star anise
Cinnamon quills or bark
1 orange
1 lemon
Brown sugar
METHOD
Cut the orange and lemon into rounds or wedges. Cut small slits into the orange peel, taking care not to cut through to the edges, and push cloves into the slits. Put in as many cloves as you like, based on how much you enjoy the flavour, but 8-10 is usually plenty (you can omit any spices you don't like). 
Combine the orange with cloves, lemon, star anise, cinnamon and red wine or cider in a slow cooker. Stir well. Add brown sugar to taste, depending on how sweet you want your mulled drinks. 
Put the lid on the slow cooker and turn it on to 'keep warm'. Depending on your slow cooker and the amount of liquid you've used, this should be warm in two or three hours, with occasional stirring. If you don't have that much time, you can turn it on low initially, keeping a close eye on it and turning it down to keep warm as soon as it reaches the right temperature.. If you heat it up too fast all the alcohol will evaporate.
Enjoy!