Unbelievably awkward moment Will Smith hit Chris Rock on stage at the Oscars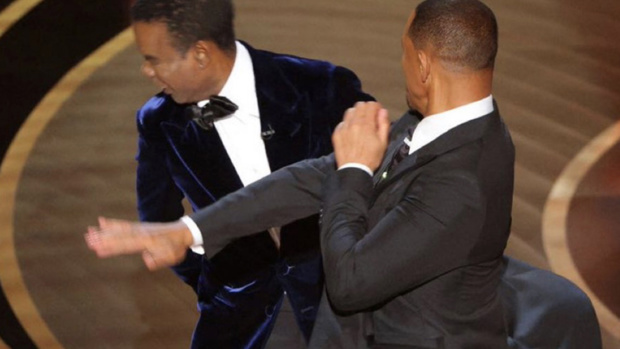 Will Smith just slapped Chris Rock at the 94th Academy Awards.
The 2022 Oscars are in full swing with awards being handed out to talented and deserving filmmakers and stars.
While the award show - hosted by Amy Schumer, Wanda Sykes and Regina Hall - had been relatively smooth, one incredibly tense and unexpected moment has left everyone in shock.
When Comedian Chris Rock took to the stage to present the award for Best Documentary Feature, he couldn't help but crack a few jokes at the A-listers present.
One, in particular, was aimed at Will Smith's wife Jada. Chris joked that he looked forward to seeing Jada in the next GI Jane movie, as the actress was sporting a shaved head.
The joke hit a nerve with the power couple as Jada's hair loss was actually due to a medical condition that she had spoken about openly.
Will unexpectedly stormed the stage after the joke and proceeded to smack the comedy star. 
"Will Smith just smacked the sh*t out of me," a shocked Chris Rock said after the incident.
Many in the crowd laughed at first, thinking the smack thrown may have been a staged bit between the actors.
However, when Will went back to his seat he screamed "Get my wife's name out of your f****** mouth." 
The room fell silent in what has got to be one of the most awkward moments in Oscars history.
"That was the greatest night in the history of television," a bewildered Chris Rock said before announcing the winner of the category he was presenting.
Taking to social media, many viewers also shared their confusion and shock.
Later Sean 'Diddy' Combs, who also presented an award, tried to ease the tension stating that Will and Chris can sort out their beef at the after-party "with love".