Warkworth baker sparks outrage after refusing to make wedding cake for gay couple
Publish Date

Tuesday, 10 July 2018, 11:45AM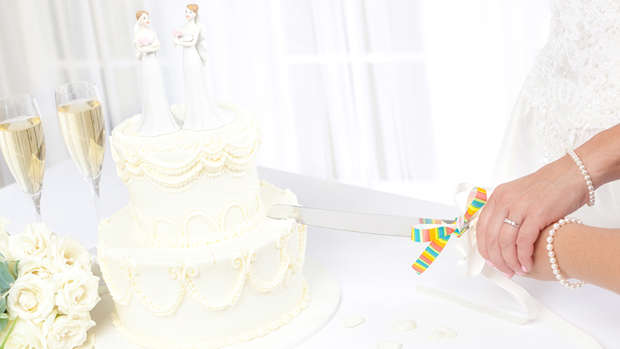 A New Zealand baker has sparked a majoy debate after she refused to make a wedding cake for a gay couple because of their sexuality.
Moe Barr and Sasha Patrick, from Brisbane, planned to get married in Waipu, Northland, in January.
They had organised to have a wedding cake made by Kath's Devine Cakes in Warkworth.
But the owner told them that would not be possible because same-sex marriage went against her beliefs.
Barr posted an email from the owner, Kath, on Facebook.
"I do not wish to offend either of you and I thank you for letting me know that it is a same-sex wedding," it said.
"Even though as individuals you are both fabulous and amazing people, I must follow the integrity of my heart and beliefs.
"Our Government has legalised same sex marriages, but it is not my belief that it is correct, therefore I will not support it and cannot make your wedding cake for you."
READ MORE:
• The first ever same-sex royal wedding has just been announced!
Posting to Facebook to express her disappointment on the matter, Barr said: "Be sure to avoid Kath's Devine Cakes if you support marriage equality."
Social media users took to the comment section to vent their outrage over the couple being denied a cake.
"Sure people can have their religious beliefs, but religion and business are two separate things. Religion is your personal beliefs and business is your employment. If you want to be successful in business you need to stop turning away customers," wrote one user.
"You're making a cake for a party as far as your concerned. You're not attending the wedding nor are you marrying them, it's silly!" another noted.
A third added: "I don't believe that your personal beliefs should dictate how you run your business. Business is business. She should've just made the cake."
Another said: "I disagree, whilst everyone has freewill and their own beliefs the baker is still running a business! And that's pure discrimination ... put ur personal beliefs aside and do the job otherwise why run a business!?"
However, not everyone thought the baker was in the wrong.
"It's her personal beliefs and she owns the business, she can do what she likes," exclaimed one person.
Why not let the baker have her own beliefs and respect that too? I think she was polite with explaining why she didn't want to bake the cake. She shouldnt be slammed and abused for her personal beliefs," a second said.

Another wrote: "She's entitled to her beliefs just as much as these two ladies believe they are. People jump up and down saying they have a right to voice their beliefs and their way of life... yet this ladies religious beliefs get stuffed to the ground? Can't have it one way for one lot to have their voice and not this lady."
Under New Zealand's Human Rights Act, it is illegal to refuse to provide goods or services to a person because of their sexual orientation.
The Human Rights Commission's chief legal adviser Janet Anderson-Bidois said anyone who believed they had been discriminated against because of their sexuality could make a complaint to the Commission, and it would be carefully considered.
This article was first published on nzherald.co.nz and is republished here with permission.