Will Smith parties into night, Oscars 'condemn' star's slapping of Chris Rock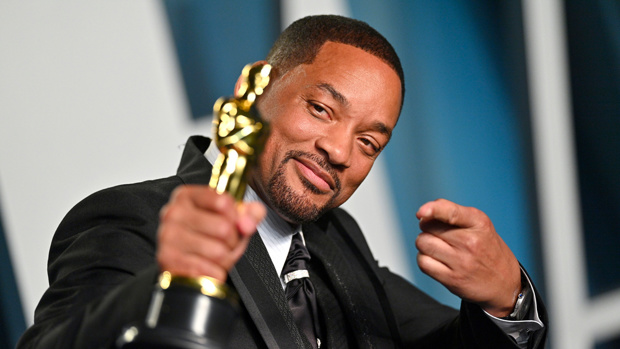 The Oscars have launched a review into Will Smith after he struck Chris Rock.
The Academy of Motion Pictures and Sciences have condemned the King Richard star for smacking the 57-year-old comic across the face after he made a joke at his wife Jada Pinkett-Smith's expense.
In a statement, they said that they would "explore further action and consequences" across California law and the organisation's standards of conduct.
This follows the 53-year-old actor winning the 'Best Actor' gong at the 94th Academy Awards and disappointing members of the awarding body, who complained "he stole the limelight" after he attempted to defend his 50-year-old wife, who was the butt of Chris's joke after she shaved her hair off due to having the autoimmune disease alopecia.
Chris said: "Jada, love ya. G.I. Jane 2, can't wait to see it.'"
Although Will laughed at first, Jada looked unimpressed and Will then walked to the stage, smacked the presenter and walked away again.
Chris said: "Oh Wow. Will Smith just smacked the s***t out of me."
Will then shouted from his seat: "Take my wife's name out of your f****** mouth."
Chris said: "Wow dude. It was a G.I. Jane joke."
The Men in Black star then again said: "Keep my wife's name out of your f****** mouth."
Chris appeared stunned as he said: "I'm going to OK... I'll keep going? That was, er, the greatest night in the history of television. Okay."
A member of the Academy told the BBC: "I woke up so bummed about what Will Smith did. To me, he stole the limelight. I don't think that was the place to be so violent. Most people were shocked. There were children there. It was a place to celebrate."
The Fresh Prince of Bel-Air star addressed the incident in his acceptance speech, apologising to the Academy and his "fellow nominees", but notably not to Chris Rock.


Photo / Getty
He said: "That's what I want to do. I want to be an ambassador of that kind of love and care and concern.I want to apologise to the Academy. I want to apologise to all my fellow nominees.
This is a beautiful moment and I'm not crying for winning an award. It's not about winning an award for me," before adding later in his speech: "But love will make you do crazy things."
Later that night Smith was caught on camera celebrating his win and partying into the night following a chaotic awards ceremony.
"It's been a beautiful night," said Smith, as he held court at the famous Vanity Fair after-party. Social media images show the A-list star dancing and singing to his own music.
The 55-year-old posed for selfies, danced with friends and rapped along to his biggest hits including Summertime and Gettin' Jiggy Wit It at the Wallis Annenberg Center for the Performing Arts in Beverly Hills.
The Hollywood Reporter website said Smith entered the party with his wife Jada Pinkett-Smith, children Willow, Trey and Jaden and friends. Inside, he was embraced by the likes of Lupita Nyong'o, Lena Waithe and Trevor Noah.
Smith also took to Instagram with a video of him and Jada with the caption: "Me 'n Jada got all dressed up to choose chaos".
Meanwhile, Chris Rock - who is yet to comment on the incident - has seemingly decided not to press charges against the Oscar winner.
In a statement, LAPD said: "LAPD investigative entities are aware of an incident between two individuals during the Academy Awards programme.
The incident involved one individual slapping another. The individual involved has declined to file a police report. If the involved party desires a police report at a later date, LAPD will be available to complete an investigative report."


Photo / Getty
Full list of 2022 Academy Award winners:
Best Picture:
'Coda'
Best Director:
Jane Campion – 'The Power of the Dog'
Best Actress:
Jessica Chastain – 'The Eyes of Tammy Faye'
Best Actor:
Will Smith – 'King Richard'
Best Supporting Actress:
Ariana DeBose – 'West Side Story'
Best Supporting Actor:
Troy Kotsur - 'CODA'
Best Costume Design:
Jenny Beavan – 'Cruella'
Best Sound:
'Dune'
Best Original Score:
'Dune' - Hans Zimmer
Best Adapted Screenplay:
'CODA' - Sian Heder
Best Original Screenplay:
'Belfast' – Sir Kenneth Branagh
Best Animated Short:
'The Windshield Wiper'
Best Live Action Short:
'The Long Goodbye'
Best Film Editing:
'Dune' - Joe Walker
Best Makeup and Hairstyling:
'The Eyes of Tammy Faye'
Best Animated Feature:
'Encanto'
Best Documentary Feature:
'Summer of Soul'
Best Documentary Short:
'The Queen of Basketball' 
Best Original Song:
'No Time to Die' — Billie Eilish & Finneas O'Connell ('No Time to Die') 
Best Cinematography:
'Dune' (Greig Fraser)
 Best International Feature:
'Drive My Car' (Japan)
Best Production Design:
'Dune' (Zsuzsanna Sipos & Patrice Vermette) 
Best Visual Effects:
'Dune'
- Bang! Showbiz, additional reporting by the NZ Herald