You're gonna get obsessed with these new premium chocolate biscuits from Arnott's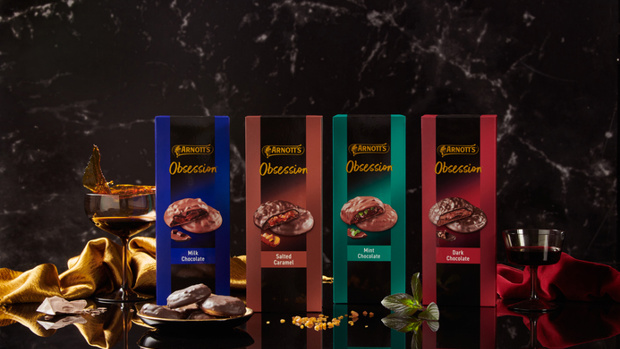 We love any excuse to treat ourselves... and there's a new premium bikki on the supermarket shelves to help with that!
Arnott's have released 'Obsession' - "a new decadent chocolate biscuit range that offers a multisensorial chocolate-eating experience" - and we're about to get completely obsessed (it's all in the name).

Each Obsession creation is comprised of a crispy chocolate biscuit, soft rich centre, and either tantalising crunchy pieces or smooth chocolate chunks which are then all wrapped in a rich chocolate outer. Did someone say yummy?!

The collection features:

Milk Chocolate
A crispy chocolate biscuit with a creamy, chocolatey centre and rich chocolate chunks, smothered in milk chocolate.

Salted Caramel
A delightful chocolate biscuit with a luscious salted caramel filling and caramel crisps coated in dark chocolate.

Dark Chocolate
The ultimate indulgence for any dark chocolate lover. A decadent chocolate biscuit, with a velvety dark centre and crunchy cocoa nibs smothered in dark chocolate.

Mint Chocolate
A delectable chocolate biscuit with a luscious dark centre and crispy mint chips wrapped in milk chocolate.
The Arnott's Obsession range are now available at supermarkets nationwide for $6.00 each - and we can't wait to try them all!