Apparently one in five women were disappointed by their man's proposal
Publish Date

Monday, 22 January 2018, 11:00AM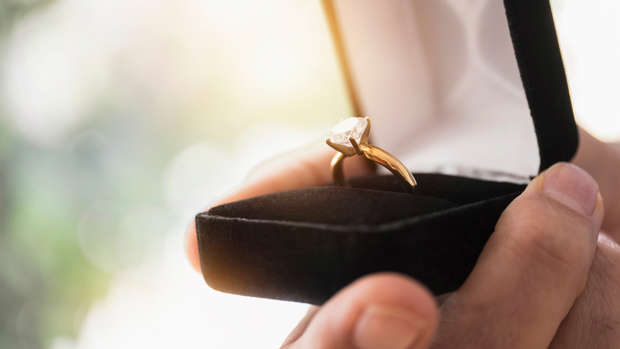 Nothing says "I love you" like a fairy-tale proposal complete with the perfect diamond ring.
But listen up, men. You need to up your game because one in five women are left disappointed by your efforts. 
A survey has revealed that 21 per cent of engaged, married or divorced women were left disappointed by their marriage proposal, but they didn't say anything to their other half and now wished they had.
And 13 per cent of those said they were so disappointed by the proposal that they wanted to cry after it had failed to live up to their expectations, the Daily Mail reports.
According to the survey, the top factors cited for marriage proposals gone wrong were: engagement rings that were too small or even no ring at all.
Women were also offended by their men not proposing on bended knee, as tradition dictates, as well as failing to organise a "special" proposal or not asking parents' permission for their daughter's hand in marriage.  
Several couples even had an argument following a less than perfect proposal - whilst other respondents confided in friends about their imperfect proposal rather than turning to their partners.
And it seems that modern would-be brides are so desperate to bag their dream engagement ring they are chipping into the cost themselves.
The survey revealed that 52 per cent of women would consider making a financial contribution to their engagement ring and 7 per cent have actually done this.
Clearly getting an engagement ring and choosing the right one is of the utmost importance - more than a third of women surveyed (38 per cent) said that an engagement ring matters because it is a symbol of how much their partner loves them. 
And 12 per cent of the engaged, married or divorced women who were polled said they would change the style of their engagement ring with 10 per cent saying they would change the size of their diamond - presumably for a larger one!.
Nearly a quarter of all respondents (24 per cent) said they didn't like any of their friends' engagement rings; one in fifteen ladies (7 per cent) admitted they do like their friends' engagement rings, but would never tell them.
Some women had modelled the design of their own engagement rings on friends' rings - whilst others had made sure their engagement rings were "bigger and better" than their friends'.
The classic Tiffany solitaire ring is the favourite design of engagement ring, with almost 1 in 5 women (20 per cent) saying that is the one they like the most. 
The second favourite is a trilogy ring - like Meghan Markle wears - with a diamond representing the past, the present and the future, with 12 per cent voting for this design.
A close third was Kate Middleton's famous blue sapphire oval cut engagement ring, with this being the firm favourite of 11 per cent of the women polled. The engagement rings of celebrities Angelina Jolie and Gwyneth Paltrow were also popular.
A spokesperson from Vashi.com, who commissioned the survey, said: "It has been very insightful to learn that so many females would make a financial contribution to their engagement ring, further proving just how important the ring of their dreams really is."
This article was first published on Daily Mail and is republished here with permission.