Bride left without wedding dress gets a new dress made in 30 minutes
Publish Date

Monday, 2 October 2017, 2:00PM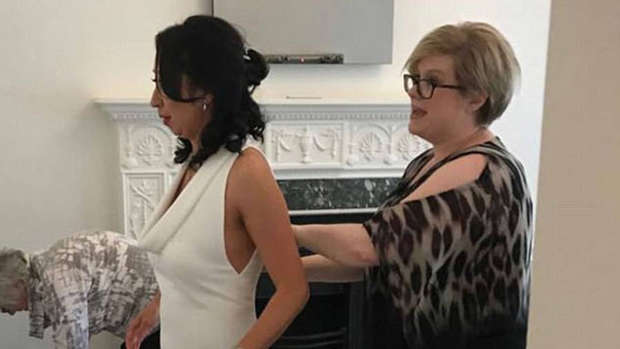 A bridal boutique was asked to rescue a bride from a dress disaster - with just half an hour to spare before her ceremony.
Courtyard Bridal Boutique, based in Kettering, received a call from the panicked wedding photographer of bride Nathalie Lout, 37, and groom Michael John Corcoran, explaining that their dressmaker had let down the bride-to-be at the last minute, leaving her with nothing to wear, reported the Daily Mail.
The boutique's team - including seamstresses Anne and Rhiannon - speedily bundled a selection of gowns and a sewing machine into a car and made their way to the wedding venue, Rushton Hall, in Kettering.
With just 30 minutes to spare before Nathalie was due to walk down the aisle, the team arrived to find her wearing a plain slip and despairing that her pre-planned dress had not been delivered ahead of her 11:30am nuptials.
The petite bride chose a plain satin gown by Pronovias, called 'Niagara', which complemented her petite frame - but the dress needed urgent altering.
With the clock ticking and just 30 minutes to go, Lizzie Adams and her team trimmed and hemmed the dress, and added bra cups into the front of it.
After a frantic bout of dressmaking - and a call to say the bride may be run a little late, Nathalie finally walked down the aisle in her bespoke dress at midday.
Speaking to MailOnline about the frantic moment she realised her dress wasn't ready, Nathalie revealed she had tried tirelessly to get in contact with her original dressmakers in the run-up to her wedding day.
She said: "I still don't know what happened to my original dress. I had my final fitting about 10 days earlier and was told that the dress would be ready on either the Thursday or Friday before the wedding and that they would contact me when it was ready.



The Courtyard Bridal Boutique team worked quickly on the dress. Photo / Nathalie Lout
When panicked Nathalie didn't hear from her dressmakers by Friday she became concerned, contacting them multiple times.
"I called them about ten times and left multiple voicemails. Mike even went around there in person but the shop was closed and there was no note on the door", she revealed.
"My sisters, visiting from France for the nuptials, waited at the shop as late as they could on the morning of the wedding - but to no avail".
RESCUE MISSION
Nathalie Lout's bridesmaids. Photo / Nathalie Lout
And despite the stark contrast between the dresses- the original dress was a traditional lace piece, while the Courtyard Bridal dress was more modern and elegant - Nathalie was happy with the dress and admits she 'would not have changed it'.
"I obviously felt sad and upset that I did not have a dress for my wedding, but I tried to stay calm," she admitted.
"My six bridesmaids all had their lovely dresses, Mike had his smart new suit, and our two beautiful boys (Brady, two, and Daniel, 10 months) had their waistcoats and white shirts.
"I certainly never contemplated cancelling or delaying the wedding. I took a simple white dress I had from my wardrobe on Friday night and drove to [nearby town] Rushton."
HAPPY ENDING
The Courtyard Bridal Boutique team worked quickly on the dress. Photo / Nathalie Lout
"The dress was incredible and such a difference to what I thought I was going to have to wear. While I tried to stay calm - I did break down in tears when I first saw it. So many people told me I looked 'stunning' and they could not believe that it was not the original dress as it looked perfect on me."
The wedding went off without a hitch, and their guests later described it as a "unique and touching family ceremony".
And Nathalie, who moved to London from Paris in 2011 to pursue her career as a financial analyst, was all too aware she couldn't have done it without the last minute help of her wedding dress makers.
GRATEFUL
Nathalie in the dress. Photo / Nathalie Lout
"We owe so much to Lizzie Adams and Courtyard Bridal for coming to the rescue. We would not have thought it was possible to get a wedding dress at such short notice and would have had no idea of who to call," she admitted.
And everything worked out for the mother-of-two, who is now a full time stay-at-home mum to her boys and lives with husband Mike- a chief financial officer in Peterborough.
"The original dressmaker has since refunded us after arriving at the venue with the dress about two hours after the ceremony. She met with Mike and was very apologetic and upset," Nathalie revealed of her ordeal.
This article was first published on Daily Mail and is republished here with permission.