Groom storms off after late bride's wedding day disaster
Publish Date

Wednesday, 31 January 2018, 2:00PM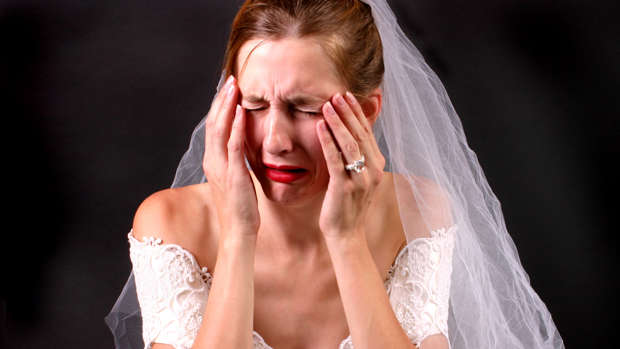 Brides are meant to arrive late to their weddings, but one woman cut it a little too fine and turned up at her own nuptials so late her fiance thought he'd been jilted and dumped her.
Nichola Touhy accidentally stood up her fiance Darren Ferne on their big day, and only got to the wedding in time for the reception were he stormed out on her, the Daily Mail report.
The $23,000 (£12,000) dream day became turned into the thing of nightmares for the mother-of-three who had a make-up disaster and her bridesmaid drop-out as well as forgetting her daughter's flower girl dress when she was getting ready.
The pre-wedding night rehearsals had been "perfect" Nichola told The Sun but the nuptials were doomed when a series of unfortunate events meant she couldn't get to the church on time.
When Nichola, 46, got her makeup done at a local department store near her hometown of Hornchurch, Essex she hated it and felt like she "looked like an extra from TOWIE [The Only Way Is Essex]".
She swiftly rushed home to wash it off, only 90 minutes before she was due to say "I do".
On arrival, she discovered her parents, who did not approve of the marriage, still at home with her two young children.
Her parents had decided they weren't going to attend the wedding so Nichola was forced to shove her kids in the back of the car and take her to the hotel to get ready with her.
Nothing going to plan, Nichola faced an issue with payment and faced a delay getting her room.
By this point, the stressed out bride was in tears. She said, "I could see the clock ticking and knew I didn't have long to get myself and the kids ready."
When she eventually got in the room, she realised her eight-year-old daughter's flower girl dress was still at home.
With no make-up or dress on, her daughter's dress across town and only half an hour to get ready, Nichola's got a text from a bridesmaid saying she couldn't make the nuptials as her child was unwell.
She called fiance Darren, 40, who was at the church with her eldest son, in tears.
Nichola said: "Our guests were already getting seated, and when he told me to hurry up that just stressed me even more."
"It was my fault. I just got so overwhelmed with things to do on the day that I had a meltdown. I feel like I have lost everything."
Nichola had 30 minutes to get to the church 20 miles away and knew she didn't have a chance unless she "drove like Lewis Hamilton"
The bride intended to put her dress on at the church, but quickly realised she couldn't get in the vintage car because it did not have any seatbelts.
Determined, she drove home, picked up her daughter's bridesmaid dress and intended to go straight there, but realised she'd missed her own wedding and went directly to the reception instead.
Customer service adviser Darren wasn't so forgiving and ended things with Nichola at the reception when the DJ asked for payment.
"It's not the kind of thing you can get over easily," he said.
Nichola said: "Darren was livid. He'd been left standing in front of the guests, pleading with the vicar to wait but there were more weddings taking place."
In 2014, the couple met online and fell in love, within five weeks Darren had proposed.
Nichola initially rebuffed the proposal, but said yes when Darren tried a second time on Valentines Day 2015.
This article was first published on Daily Mail and is republished here with permission.